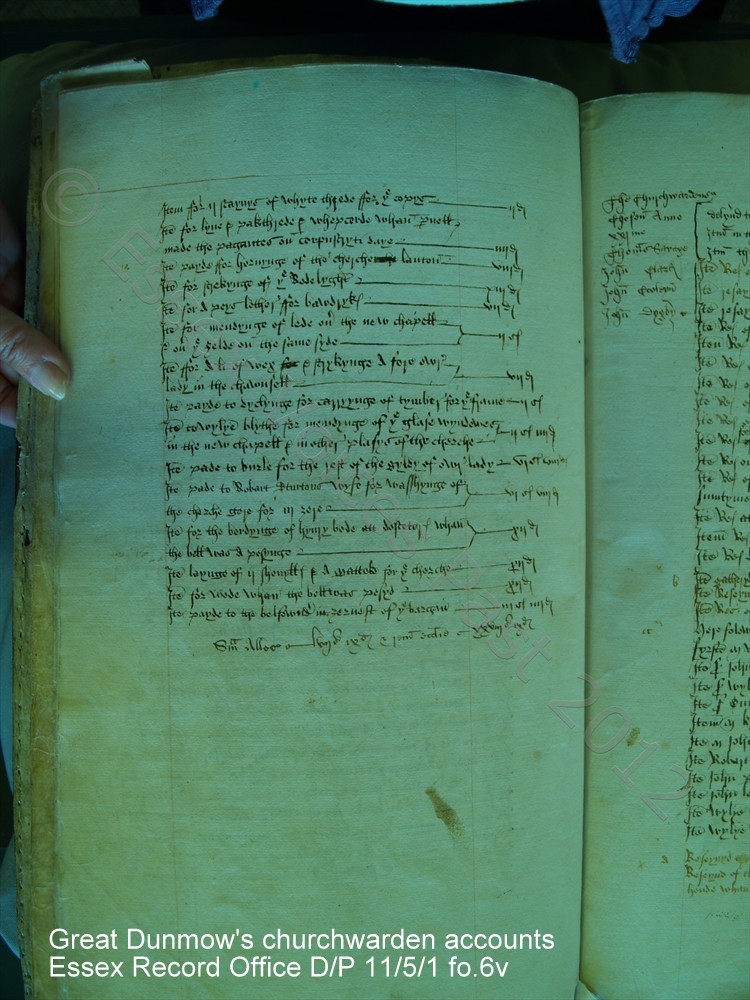 Transcription of Tudor Great Dunmow's churchwardens' accounts (1526-7)
1. Item ffor ij scaynys of whyte threde ffor ye copys [Item for 2 skeins of white thread for the copys (corpus?) 2d]
iid
2. Ite[m] for lyne & pakthrede & whepcorde when p[ar]nell [Item for line and pack-thread and whipcord when Parnell]
iiiid
3. made the pagantes our corpuscryti daye [made the pageants our Corpus Christi day 4d]
4. Ite[m] payde ffor hornynge of the cherche

<illegible crossing out>

lanton [Item paid for horning(?) of the church lantern 8d]
viiid
5. Ite[m] for strekynge of ye Rodelyght [Item for striking of the Rood light 13d]
xiijd
6. Ite[m] for a peys lether ffor bawdryk [Item for a piece leather for bawdrick 8d]
viid
7. Ite[m] for mendynge of lede on the new chapell [Item for mending of lead on the new chapel]
iis
8. & on ye gelde on the same syde [and on the gild on the same side 2s]
9. Ite[m] ffor a li of wex

for

& strykynge a fore owr [Item for a pound of wax & striking before our]
viid
10. lady in the chawnsell [lady in the chancel 7d]
11. Ite[m] payde to dychynge for carryynge of tymber for ye frame [Item paid to Dychynge for carrying timber for the frame [2s]
iis
12. Ite[m] to Wylye[m] blythe for mendynge of ye glase wyndowes [Item to William Blythe for mending the glass windows]
iis iiijd
13. in the new chapell & in other plasys of the cherche [in the new chapel & in other places in the church]
14. Ite[m] pade to burle for the rest of the gyldy of owr lady [Item paid to Burle for the rest of the gild of our lady 6s 8d]
vjs viijd
15. Ite[m] pade to Robart Sturtons wyfe for wasshynge of [Item paid to Robert Sturton's wife for washing of]
vjs viiid
16. the cherche gere for iij yere [the church gear for 3 years 6s 8d]
17. Item for the bordynge of hynry bode att doscetor & when [Item for the boarding of Henry Bode at Dowsetter & when]
xijd
18. the bell was a perynge [the bell was repairing 12d]
19. Ite[m] laynge of ij shovylls & a mattoke for ye cherche [Item laying of 2 shovels & a mattock for the church 12d]
xiid
20. Ite[m] for wode when the bell was pesyd [Item for wood when the bell was repaired(?) 12d]
xiid
21. Item payde to the belfowder in rernest of ye bargine [Item paid to the bell-founder in ? of the bargain(?) 3s 4d]
iijs iiijd
22. S[u]m[m]a Alloe lvijs ixd & rend ?? xxviijs ixd [Sum of 52s 9d remainder(?) ?? 28s 9d
Commentary
Line 1-3: Great Dunmow's Corpus Christi pageant.  See the commentary below.
Line 6:  Bawdrick –  According to Wikipedia, a bawdrick/baldric was a belt worn over one shoulder which was often used to carry a weapon (such as a sword). (Not to be confused with Blackadder's sidekick, Baldrick!)
Line 7 & 8 and 12 & 13: Mending of the led, gild and glass in the 'new chapel'.  This must have been a side chapel within the church of St Mary the Virgin.  It does not refer to a separate building, such as the small chapel which existed in the town's centre.
Line 19: A mattock was a tool used for digging. It had a flat blade set at right angles to the handle.
Line 21: The bell-founder.  This is possibly the same bell-founder in London which the parish of Great Dunmow commissioned to make their bells in the late 1520s.  It is very likely that this is the same bell-foundry in Whitechapel which is still in existence today and cast the magnificent bells for the Queen's Diamond Jubilee Bells & the London 2012 Olympic Bell.
Great Dunmow's Corpus Christi Plays
Lines 1-3 above record the expenditure for 'lyne & pakthred & whepcorde when P[ar]nell made the pagantes on Corpus Cryti day'.   It has been suggested that this entry in Great Dunmow's accounts signifies rope scourges and therefore, Great Dunmow's Corpus Christi plays were Catholic religious set-pieces involving flagellation. (1)  Packthread is very strong thread or twine and whipcord is strong worsted fabric often used for whiplashes. This argument is further enforced by the claim that the P[ar]nell in the churchwarden's accounts was one John Parnell who was active in 1505 in Ipswich.(2)  This John Parnell of Ipswich was given 33s 4d by that town to find ornaments for their Corpus Christi plays for a period of twelve years.(3)  Ipswich's Corpus Christi plays must have been a magnificent event because of the amount of money given to John Parnell.  Therefore, if Ipswich's Parnell was the same person as Great Dunmow's Parnell, then this connection could be used to support a supposition that the town of Great Dunmow was trying to emulate the more prosperous town of Ipswich.
However, by not just looking at Great Dunmow's churchwardens' accounts in isolation but also analysing other primary sources from Great Dunmow, it can be established that a Robert Parnell was a Tudor resident of Great Dunmow. Whilst he is not listed in any of the parish collections itemised in the churchwardens' accounts, he is listed in the Great Dunmow's 1524-5 Lay Subsidy returns.(4)  Moreover, a Roberd Parnell is also detailed in John Bermyshe's 1526 will as living in one of Bermyshe's houses in Great Dunmow.(5)  Robert Parnell was a resident of Great Dunmow.  Therefore, the evidence suggests that Ipswich's Parnell was not the same Parnell who supplied rope for Great Dunmow's pageant.  Moreover, as the rope was for 'pagantes', it is probable the rope was used to support the pageant's scenery, and not used as rope-scourges.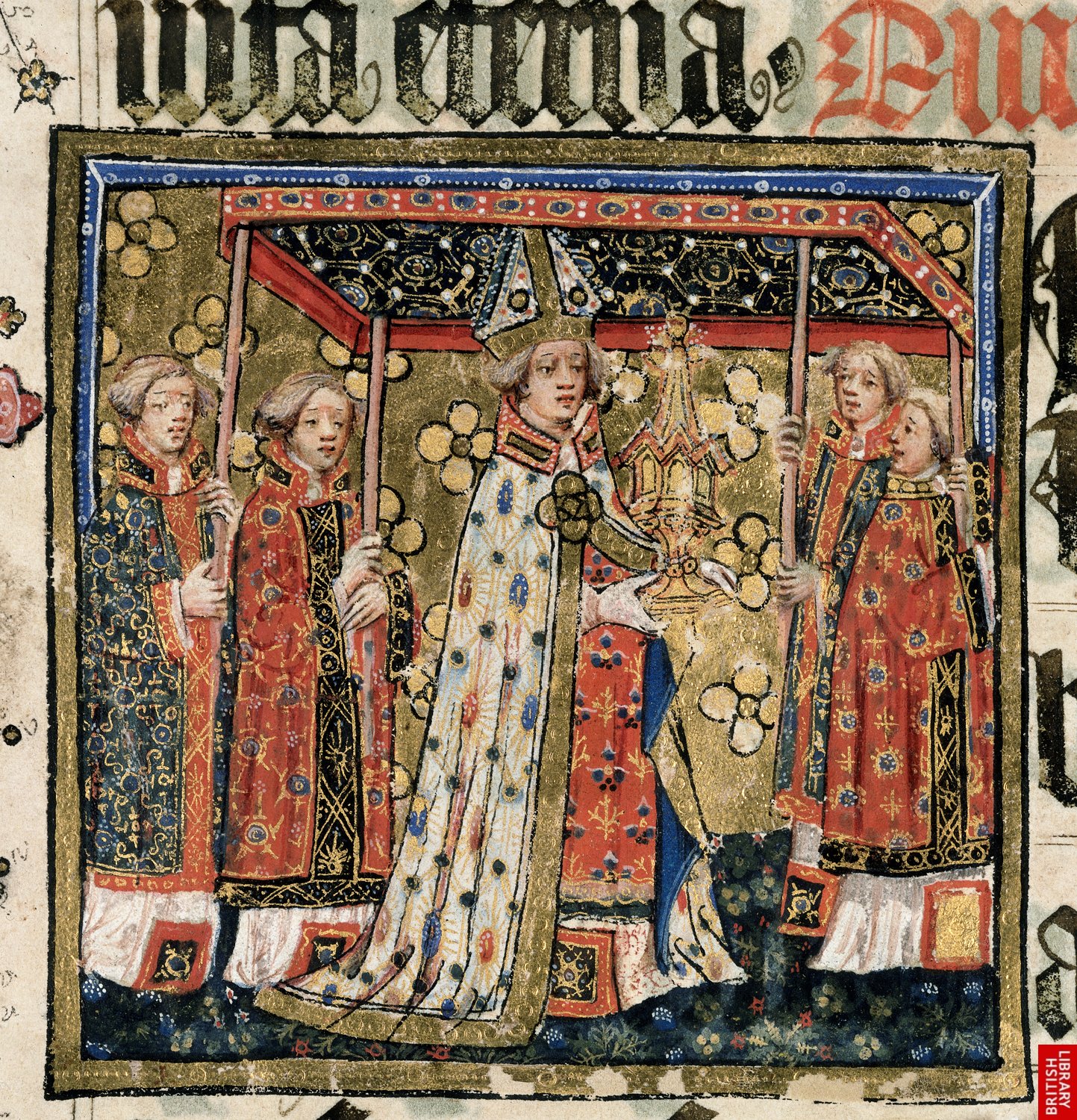 Detail of a miniature of a bishop carrying a monstrance in a
Corpus Christi procession under an canopy carried by four clerics
The Lovell Lectionary. Harley 7026, f13 (England, c1400-c1410),
© British Library Board
Detail of a miniature of Corpus Christi, with two kneeling angels holding a chalice with the host above.  The Gospel Lectionary, Shelfmark Royal 2 B XIII f. 22 (England, c1508),
© British Library Board
Detail of a historiated initial 'C'(orpus) of ciborium carried in a Corpus Christi procession.
The Omne Bonum, Shelfmark Royal 6 E VI f.427v (England, c1360-c1375),
© British Library Board
Footnotes
1) Clifford Davidson, Festivals and plays in late medieval Britain (Aldershot, 2007) p55.
2) Ibid.
3) John Wodderspoon, Memorials of the ancient town of Ipswich in the county of Suffolk (1850) p170.
4) Hundred of Dunmow: Calendar of Lay Subsidy Rolls (1523-4), E.R.O., T/A427/1/1.
5) Will of John Bermyshe (1527), E.R.O., D/ABW/3/9.
Notes about Great Dunmow's churchwarden accounts
Great Dunmow's original churchwardens' accounts (1526-1621) are kept in Essex Record Office (E.R.O.), Chelmsford, Essex, D/P 11/5/1.  All digital images of the accounts within this blog appear by courtesy of Essex Record Office and may not be reproduced. Examining these records from this Essex parish gives the modern reader a remarkable view  into the lives and times of some of Henry VIII's subjects and provides an interpretation into the local history of Tudor Great Dunmow.
*-*-*-*-*-*-*-*-*-*-*-*-*-*-*-*-*
This blog
If you want to read more from my blog, please do subscribe either by using the Subscribe via Email button top right of my blog, or the button at the very bottom.  If you've enjoyed reading this post, then please do Like it with the Facebook button and/or leave a comment below.
Thank you for reading this post.
You may also be interested in the following
– Index to each folio in Great Dunmow's churchwardens' accounts
– Great Dunmow's Churchwardens' accounts: transcripts 1526-1621
– Tudor local history
– Pre-Reformation Catholic Ritual Year
© Essex Voices Past 2012-2013.