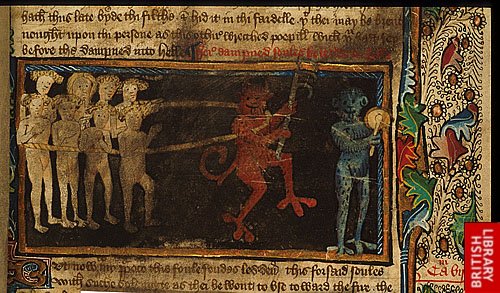 Guillaume de Deguileville (translator), 'Devil holding a hook encircling naked people with a rope.' from The Pilgrimage of the Soul (East England, circa between 1413 and 1475), shelfmark: Egerton 615 f. 34. © British Library Board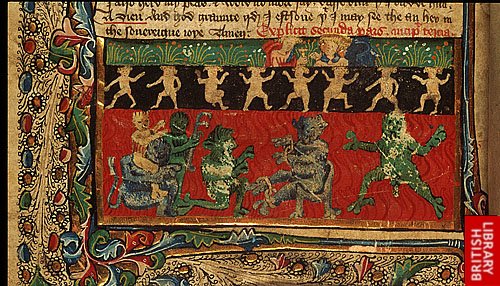 Guillaume de Deguileville (translator), 'Devils' from The Pilgrimage of the Soul (East England, circa between 1413 and 1475), shelfmark: Egerton 615 f. 46v.
© British Library Board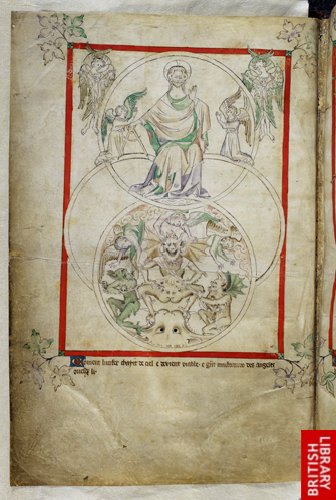 'God holding a compass with angels and cherubins, and Lucifer with fallen angels and devils' The Queen Mary Psalter (England, 1310-1320), shelfmark: Royal 2 B VII f.1v.
© British Library Board
All digital images from the British Library's Online Images archive appear by courtesy of the British Library Board and may not be reproduced (© British Library Board).
*-*-*-*-*-*-*-*-*-*-*-*-*-*-*-*-*
This blog
If you want to read more from my blog, please do subscribe either by using the Subscribe via Email button top right of my blog, or the button at the very bottom.  If you've enjoyed reading this post, then please do Like it with the Facebook button and/or leave a comment below.
Thank you for reading this post.
You may also be interested in the following
– Early-modern images
– Images of Medieval animals
– Images of Medieval music
– Images of Tudors
– Images of Medieval devils
© Essex Voices Past 2012-2013.