Within the 1525-6 collection for Great Dunmow's church steeple, two vicars and two parish priests are recorded at the start of the list. The two priests can be detected from the suffix 'Sur' [Sir] alongside their names. 'Sir' was a courtesy title given to medieval parish priests and should not be confused with the title 'Sir' as given to knights. This use of 'Sir' for the parish priest was widespread throughout pre-Reformation England and only died out during the Elizabethan era with the end of Catholicism as the recognised church within England. Thus, the Tudor parish priest of Eamon Duffy's The Voices of Morebath was 'Sir' Christopher Trychay (pronounced 'Tricky').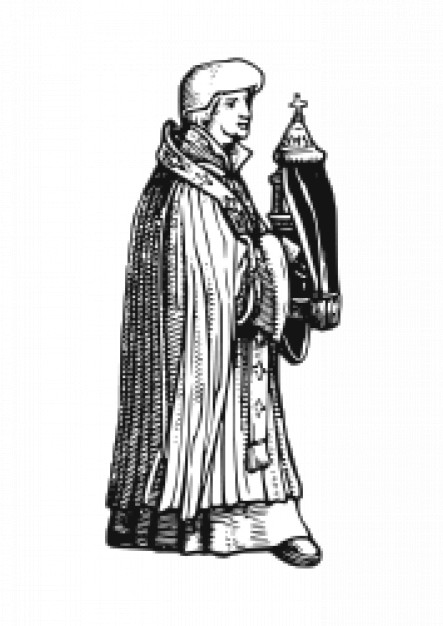 According to the 1525-6 returns for the church steeple, the two parish priests in Great Dunmow were
– Sur John mylton
– Sur Wyllyem Wree
Other priests are named in the other parish collections as recorded in the church warden accounts between 1526 and 1539:
– Sir Gutfraye [Godfrey]
– Sir George
– Sir Nicholas
– Sir Thomas
Within the churchwarden accounts, both the vicar 'mayster vycar thatt now ys' (William Walton) and the retired vicar (Robert Sturton) 'sumtyme vycar of a late tyme' have the suffix of an 'M'. This is not a contraction of 'Mister' but is an abbreviation of 'Master' i.e. they both had a Master of Arts degree from a university – most likely either Cambridge or Oxford. My own research, as will be explored in later blogs, concluded that they were probably Cambridge men. So the two principal clerics in Great Dunmow were university educated men and Master of Arts.
A previous historian of Great Dunmow's churchwarden accounts, W.A. Mepham who was active in the 1930s and 1940s, mis-understood this 'M' suffix. He highlighted what he termed a 'curiosity' from the corporation records of the Essex town of Maldon(1):
'11 July 1540, Relick Sunday, Received of Mr. Vykar, by hym gathered
at Moche Dunmowe vjs [6s]'(2)
The puzzle over why the vicar of Great Dunmow gave money to the town of Maldon can only be solved when it is understood that this was not 'Mister Vicar' but rather 'Master Vicar' and that Master William Walton was the vicar of both Great Dunmow and All Saints, Maldon. Unfortunately, Mepham had totally missed that the vicar of Great Dunmow was William Walton, a pluralist vicar (i.e. he held the living of more than one parish). Walton had gathered money from his flock in one of his parishes (Great Dunmow) and gave this money to the borough of his other parish (Maldon).   The reason behind this will be explored in a later blog.
All four clergy documented in the 1525-6 collection appear as witnesses to various Great Dunmowian wills from the 1520s and 1530s.  These clergy, ever present at death-beds, included Robert Sturton,  who had resigned by this time, but was still administering to his flock in his retirement. So, in 1526, Great Dunmow had four religious clerics active in the parish to administer to their flock of at least 165 houses – approximately just under 1,000 parishioners.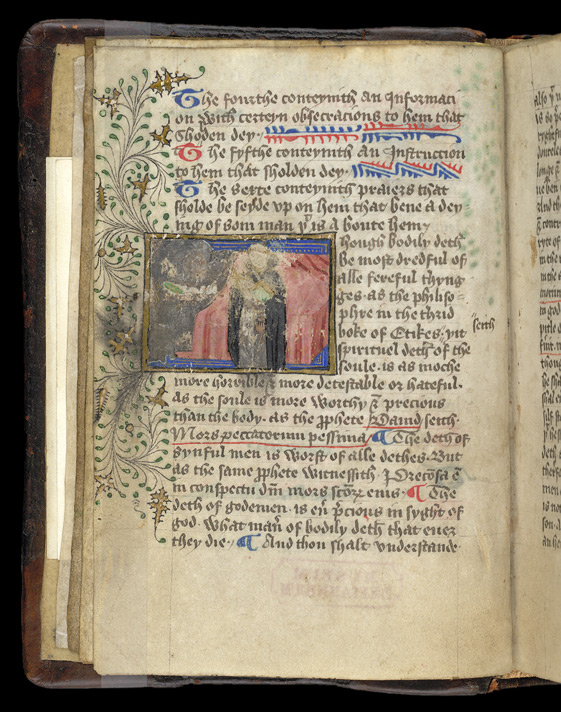 A Priest Administering the Last Rites(3).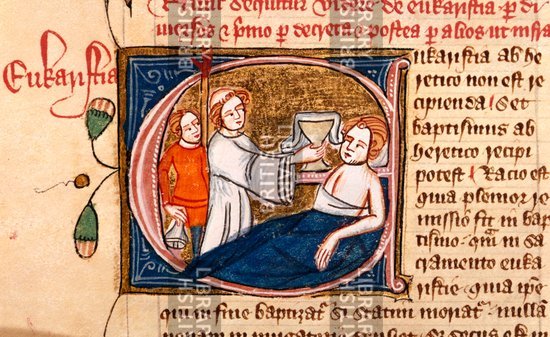 A priest giving communion to a sick man,
with an acolyte, carrying a bell and a candle(4).
Footnotes
1) Maldon Borough Chamberlains' Accounts (1494-1564), Essex Records Office, D/B 3/3/236.
2) W.A. Mepham, 'Villages Plays at Dunmow, Essex, in the sixteenth century', Notes and Queries, 166, (May 1934), 345-348 and 362-366.
3) Richard Rolle, A Priest Administering The Last Rites in 'The Crafte Of Deying' (1450), shelfmark: Additional MS 10596, item number: f.1v, ©British Library Board.
4) Priest giving communion to a sick man, image taken from Omne Bonum. (London, 1360-1375), shelfmark: Royal 6 E. VII f.70, ©British Library Board.
Useful background books
Peter Heath, The English Parish Clergy on the Eve of the Reformation, (London, 1969).
Notes about Great Dunmow's churchwarden accounts
Great Dunmow's original churchwardens' accounts (1526-1621) are kept in Essex Record Office (E.R.O.), Chelmsford, Essex, D/P 11/5/1.  All digital images of the accounts within this blog appear by courtesy of Essex Record Office and may not be reproduced. Examining these records from this Essex parish gives the modern reader a remarkable view  into the lives and times of some of Henry VIII's subjects and provides an interpretation into the local history of Tudor Great Dunmow.
*-*-*-*-*-*-*-*-*-*-*-*-*-*-*-*-*
This blog
If you want to read more from my blog, please do subscribe either by using the Subscribe via Email button top right of my blog, or the button at the very bottom.  If you've enjoyed reading this post, then please do Like it with the Facebook button and/or leave a comment below.
Thank you for reading this post.
You may also be interested in the following
– Index to each folio in Great Dunmow's churchwardens' accounts
– Great Dunmow's Churchwardens' accounts: transcripts 1526-1621
– Tudor local history
– Pre-Reformation English church clergy
© Essex Voices Past 2012-2013.