I have always been a traditional and conventional kind-of-a person (whatever 'traditional' and 'conventional' mean!).  So it is with great surprise that, some 17 years after my eldest child took their first hesitant steps into a classroom, I found myself having to withdraw my youngest child – aged only 8 – from mainstream schooling.  The reasons for this are serious and includes a diagnosis of severe dyslexia along with many other special educational needs.   Someone (who should have known better) wrote of my child that they are 'academically challenged'.  I am also dyslexic, so with my first class honours history degree and masters in local history from Cambridge University, I am proud to have the same badge as my child of being academically challenged.
So, for the past few months, I have had to educate my child at home – while the grown-ups fight out my child's future in the Courts, and I have had to learn very quickly the educational laws of this land.  There have been some positives, whilst I cope with the most stressful and distressing situation of my entire life (the legal battles, not the home education!).   For the first time in 17 years, I am no longer governed by term time, school holidays and half terms.  Instead, we can roam and explore our beautiful country at our own pace, at our own time and in our own way – and in a way suitable for my child's learning style.
Every Friday, we push the school books aside, switch off the computer with its bleeping educational apps, and head for the hills.  For Friday is our 'School Trip Friday'.  We visit places that interest us – history, geography, geology – Tudors, Romans, Vikings – nature walks, bug hunting, Geocaching – anything and everything all rolled into one glorious day out each week.
Come join us on one of our School Trip Fridays for the Academically Challenged at the Weald and Downland Open Air Museum in Chichester, West Sussex.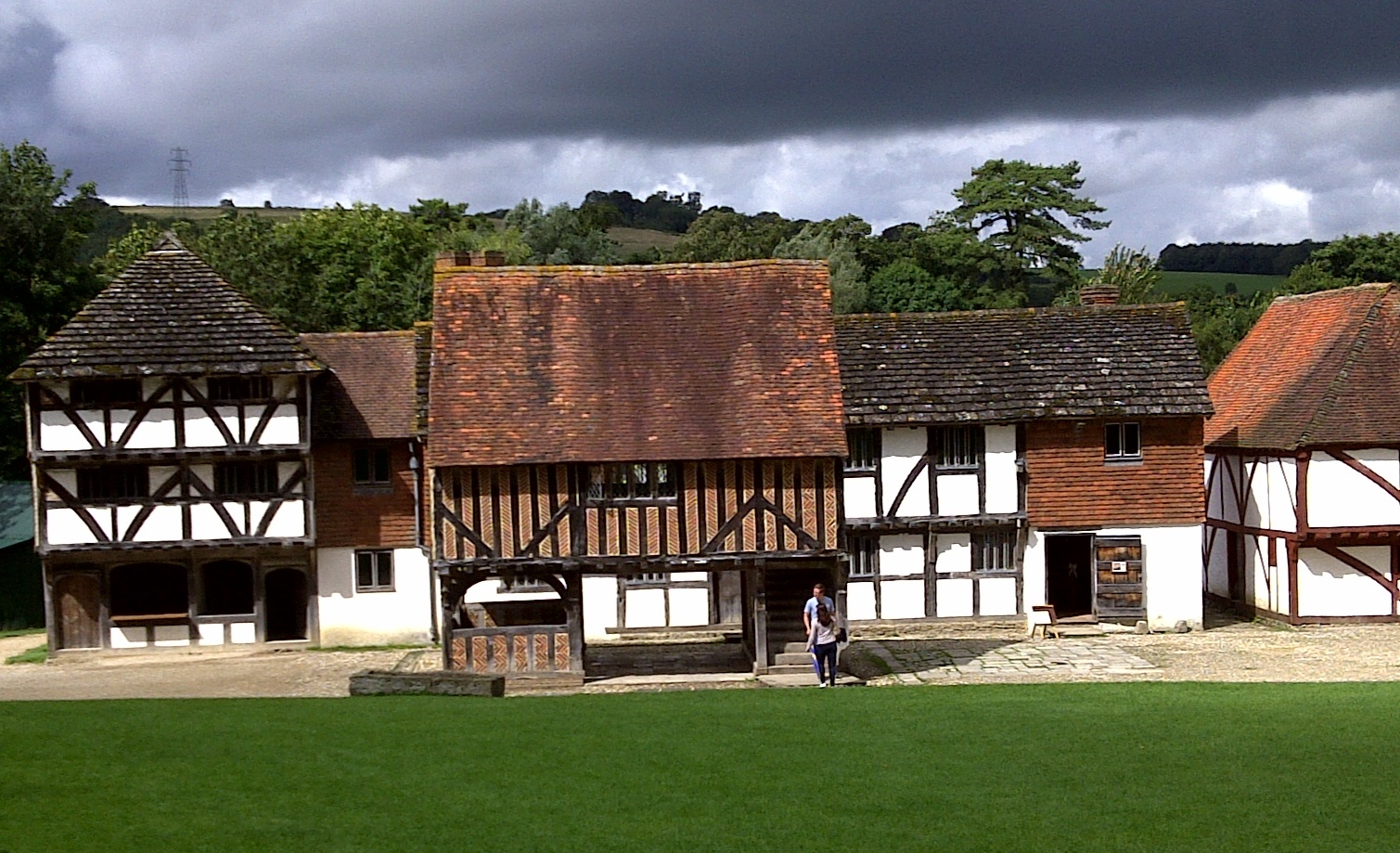 Storm clouds gathering over the market place.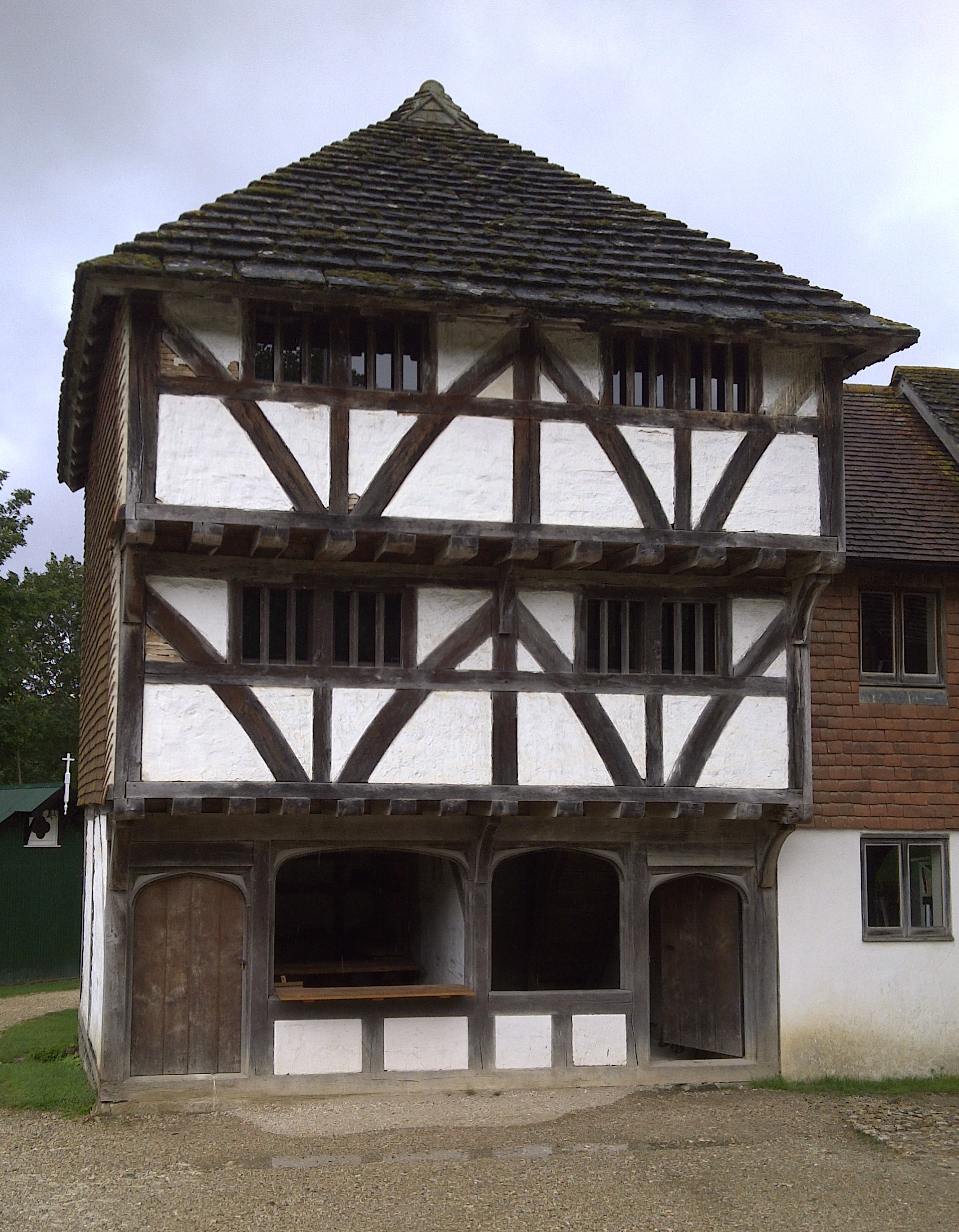 Medieval Shop from Horsham, Sussex.
This is a pair of shops which were originally built in the 15th century.
Only one of the pair has stairs up to the jettied upper rooms.
This is our favourite house in the entire museum – great for playing 'shops' in!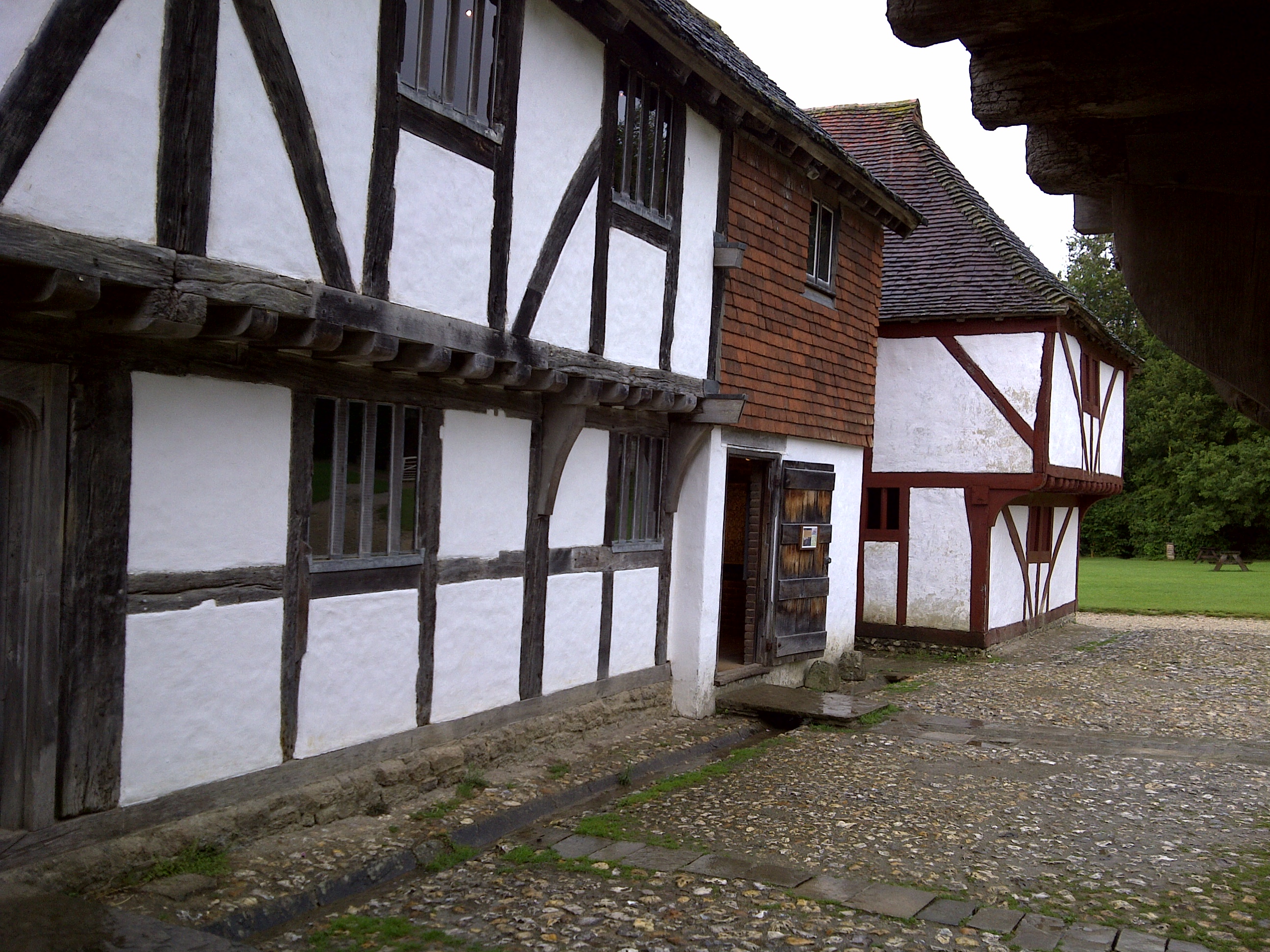 Upper Hall from Crawley (circa 1500).  The ground floor was divided into separate rooms and the first floor was one long open room (perhaps used as a meeting room).  Both ends of the building are not the original (only one end is visible in my picture – in the centre) – they are modern ends added because the original ends no longer exist.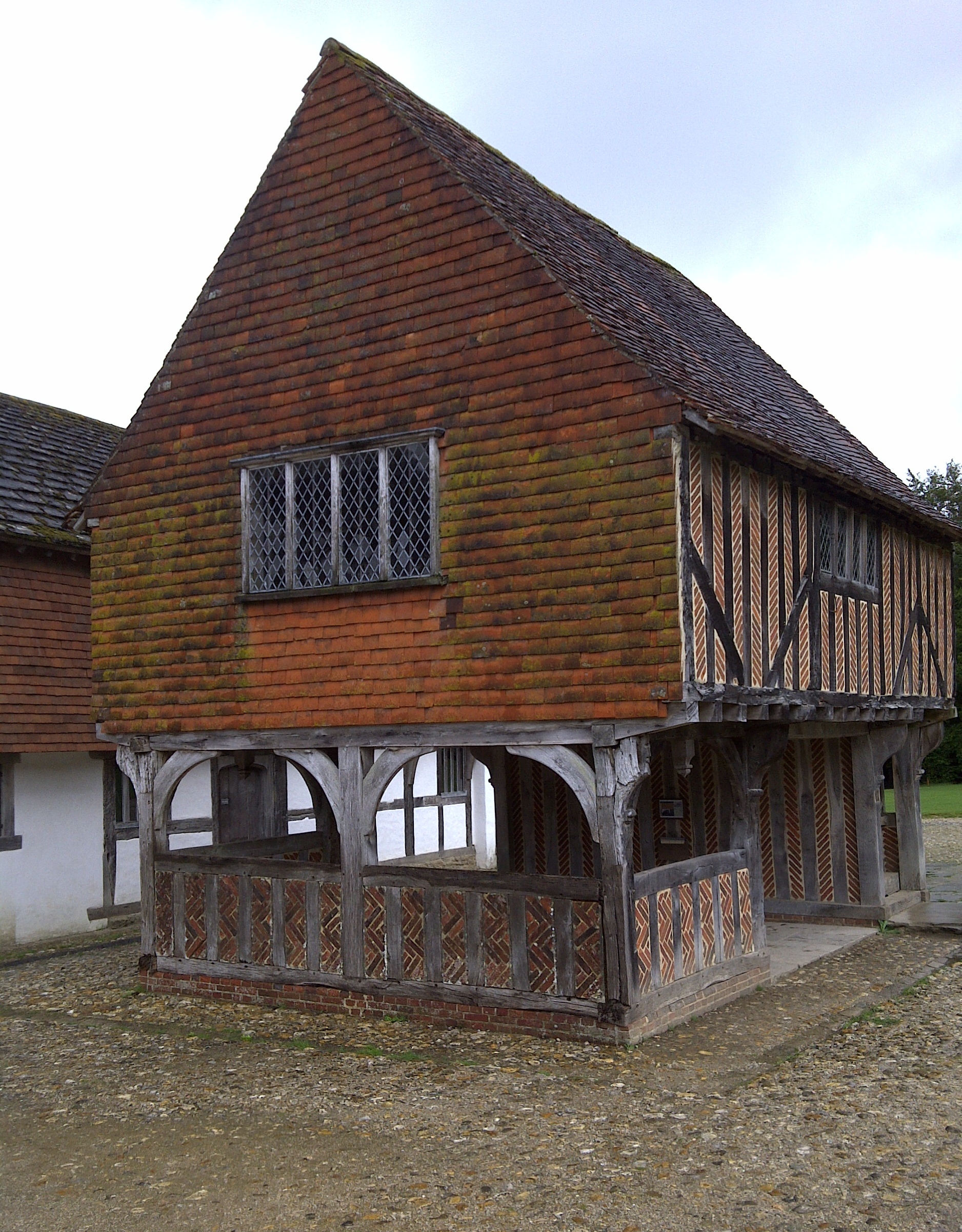 Market Hall from Titchfield, Hampshire.
A typical 17th century market hall – this one was built in 1620.
The lower level was used as an open arcade used by traders whilst
the rooms on the upper floor would have been used as the town's council chambers.  Under the stairs leading to the upper level there is a 'cage' (or village lock-up).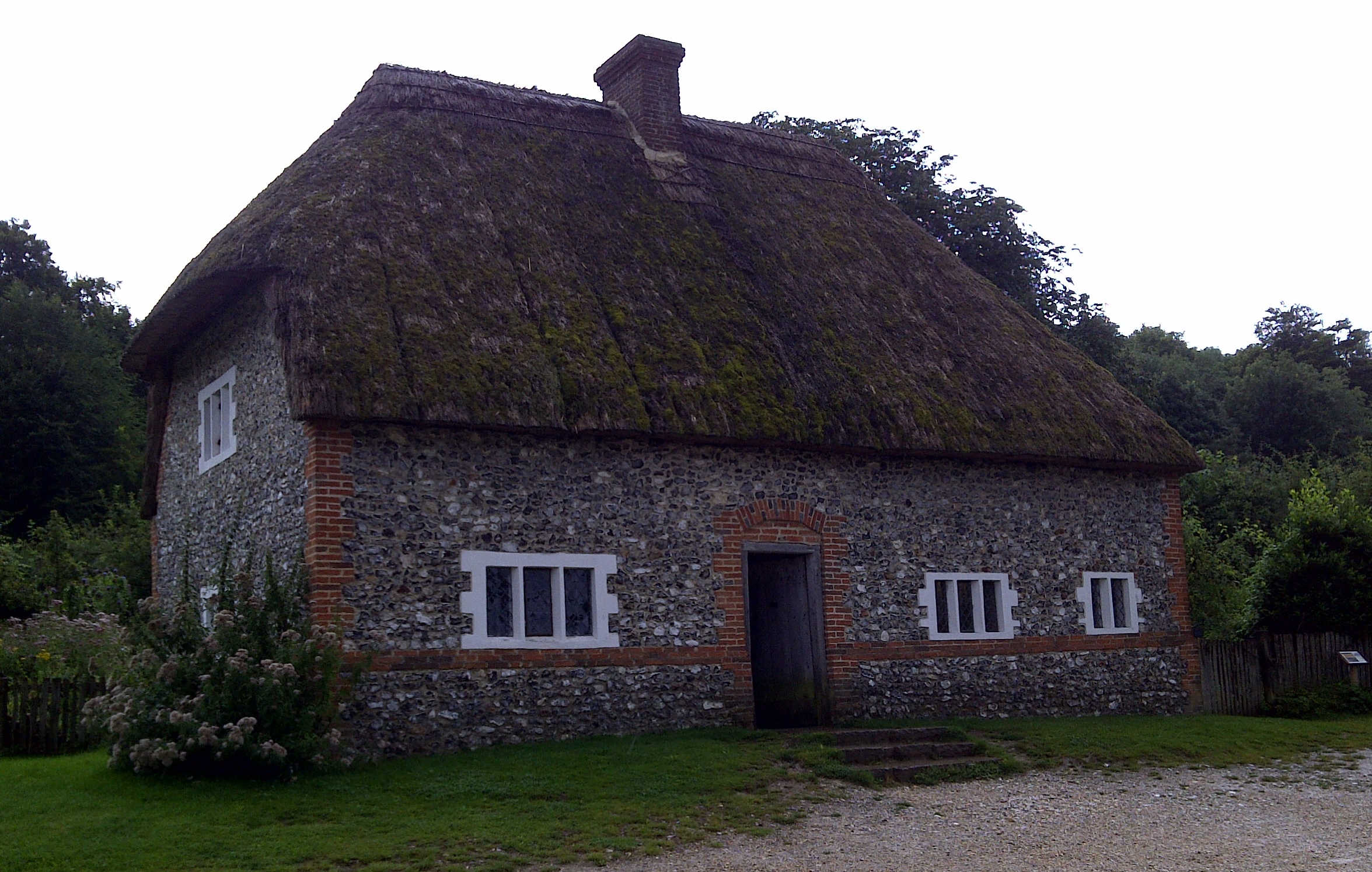 House from Walderton, Sussex.  This is a 17th century building constructed of flint and brick.  This was our 2nd favourite building of the day – mainly because one of the museum's wonderful volunteer helpers spent a long time talking to my child about the house.  We were shown the indentations on the cobbles by the hearth (inside) caused by hob-nailed boots where the man of the house used to stand and shuffle, trying to warm himself in front of the fire.  We were shown how the building was constructed and altered over hundreds of years of occupation to suit each new generation.  The front door was of great fascination because of the over-sized lock!  All the nooks and crannies within this incredible house was scrutinized and studied in depth through the eyes of an 8 year old child.  The volunteers and staff love their museum and I thank them for the patience and trouble they took with my child.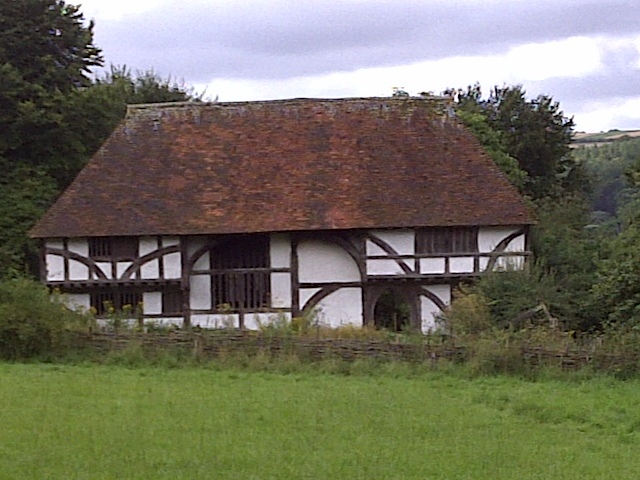 'Bayleaf Farmstead' – Wealden House from Chiddingstone, Kent.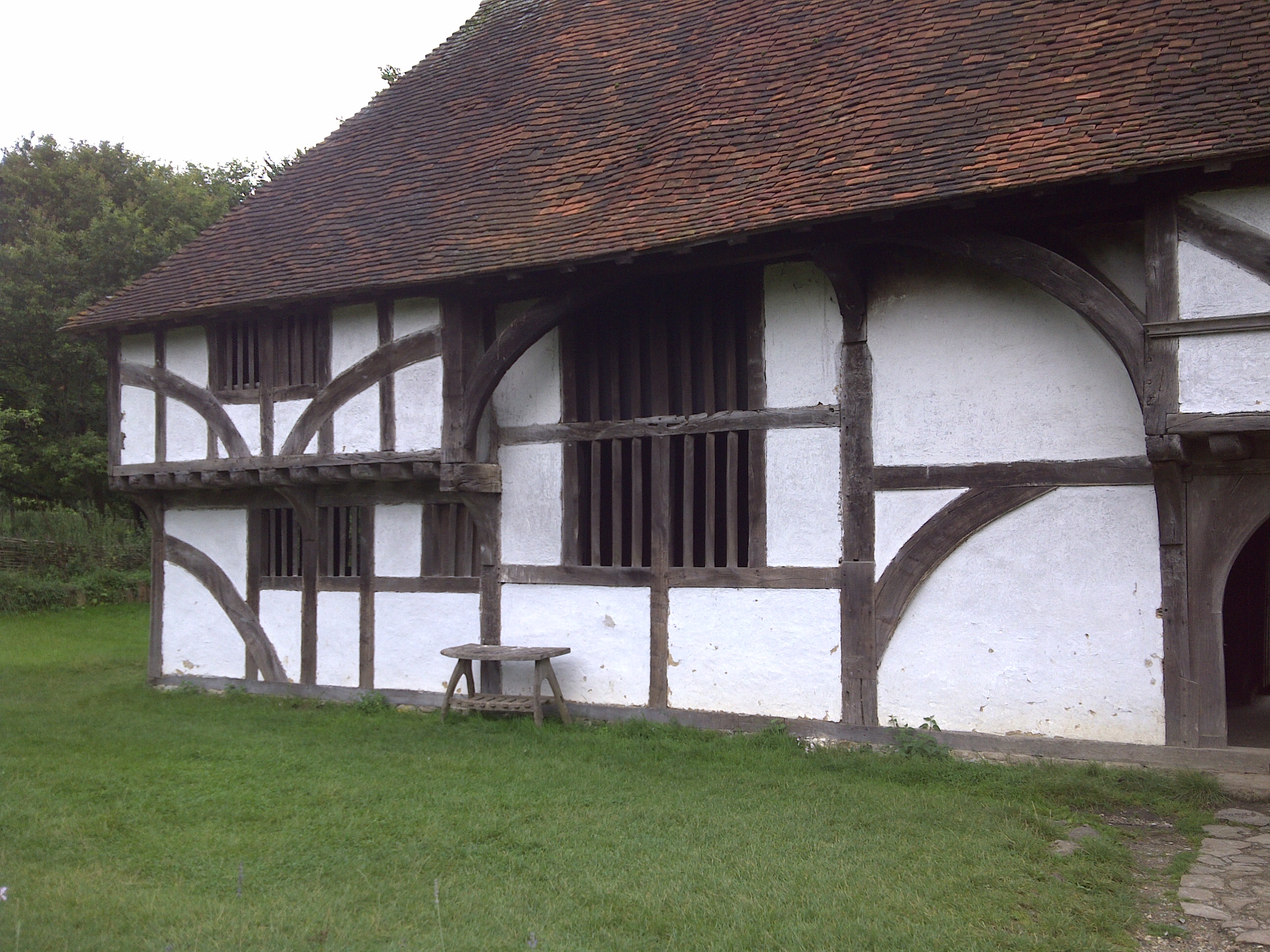 'Bayleaf Farmstead' – Wealden House from Chiddingstone, Kent.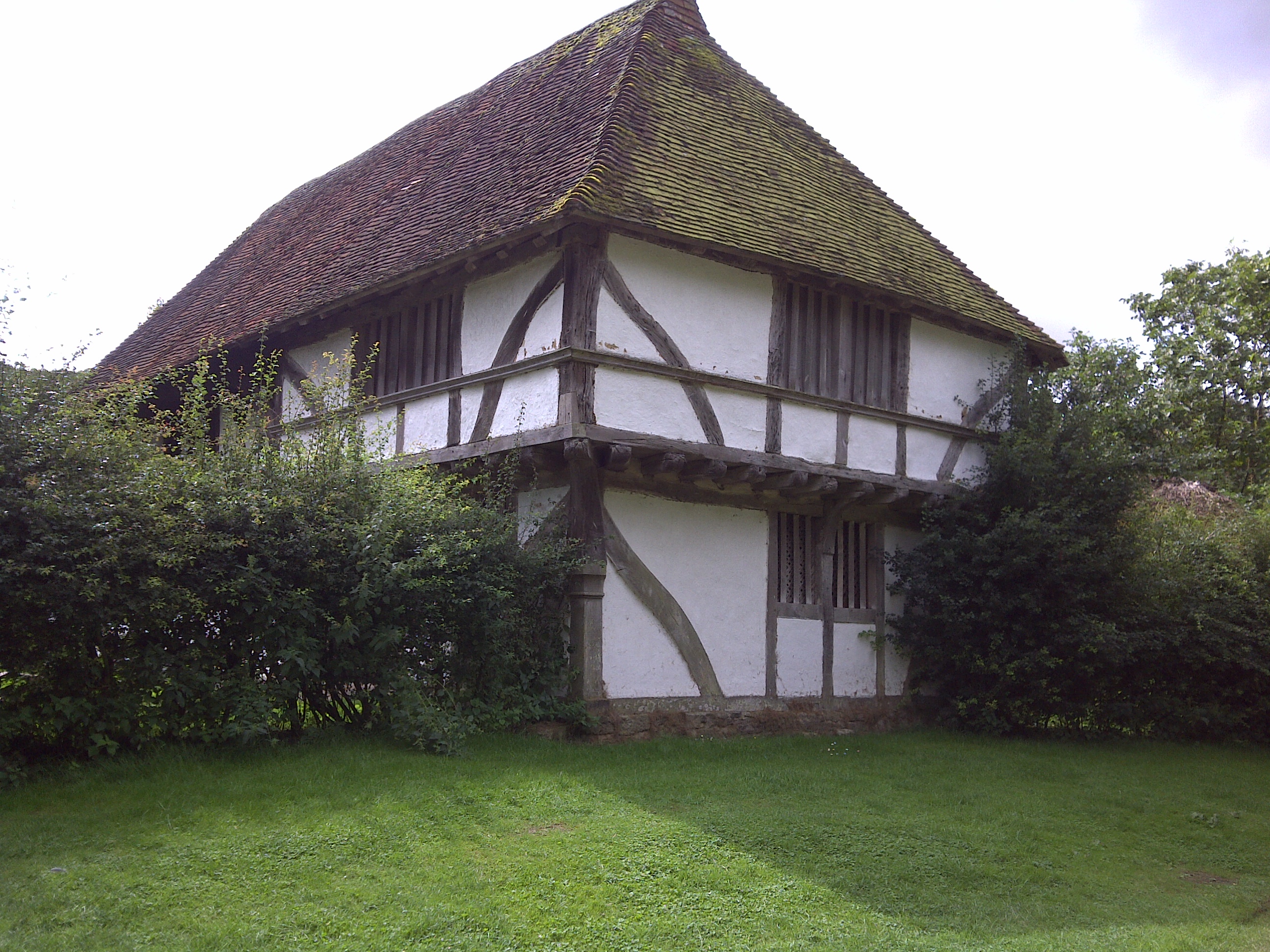 'Bayleaf Farmstead' – Wealden House from Chiddingstone, Kent.  A timber-framed hall-house from the early 15th century.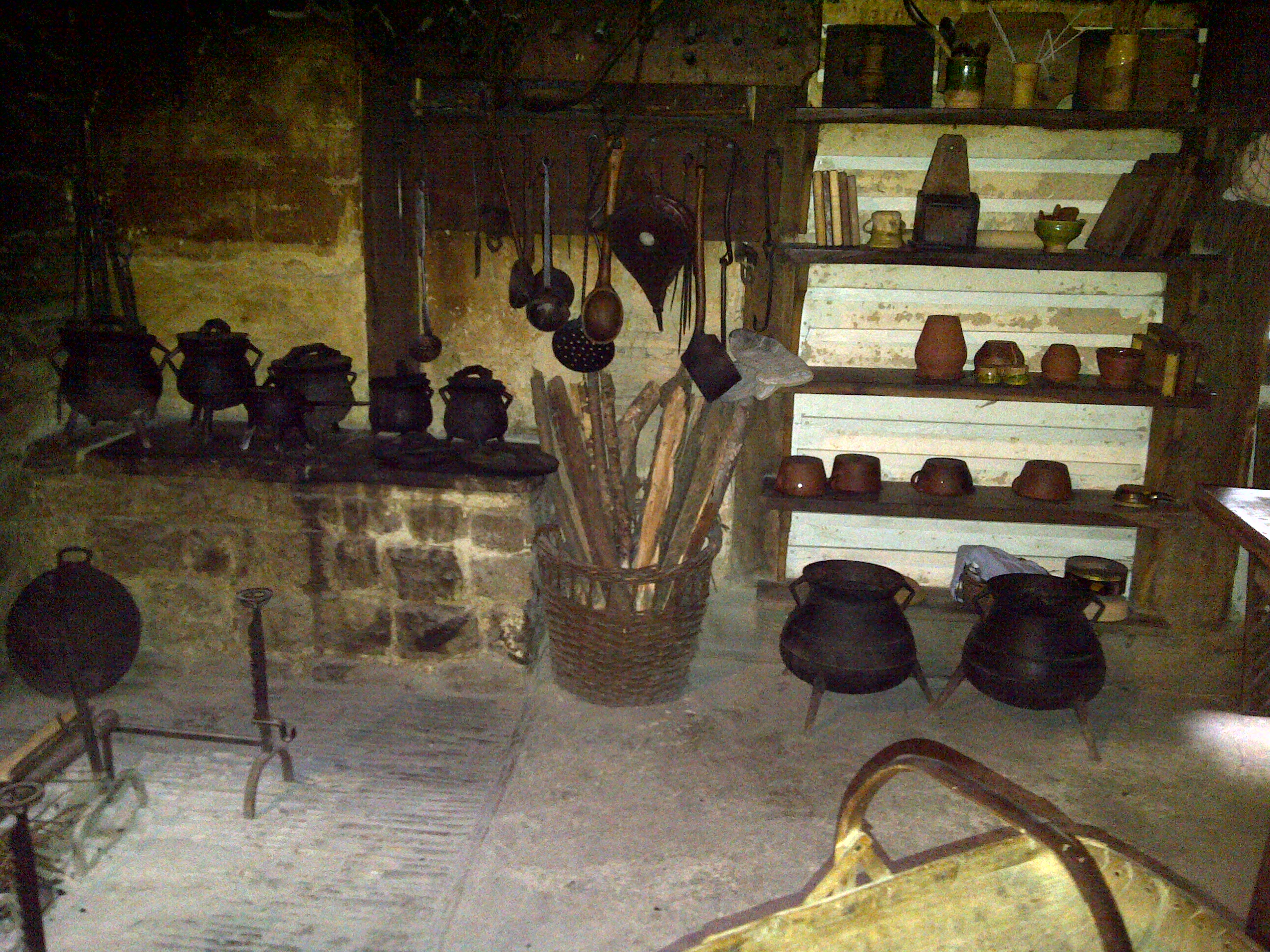 Inside the Wealden House from Chiddingstone.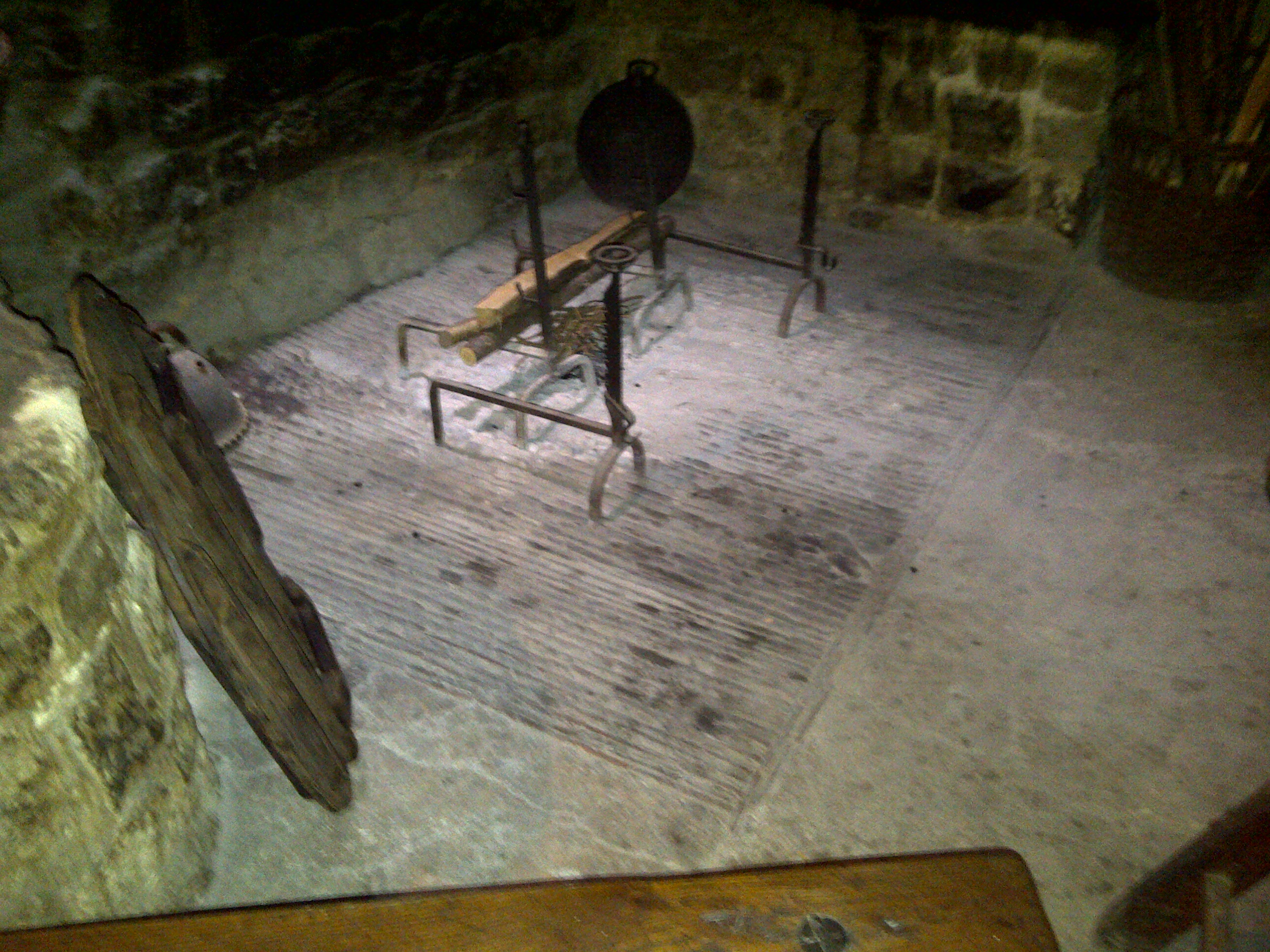 Inside the Wealden House from Chiddingstone – the open fire place.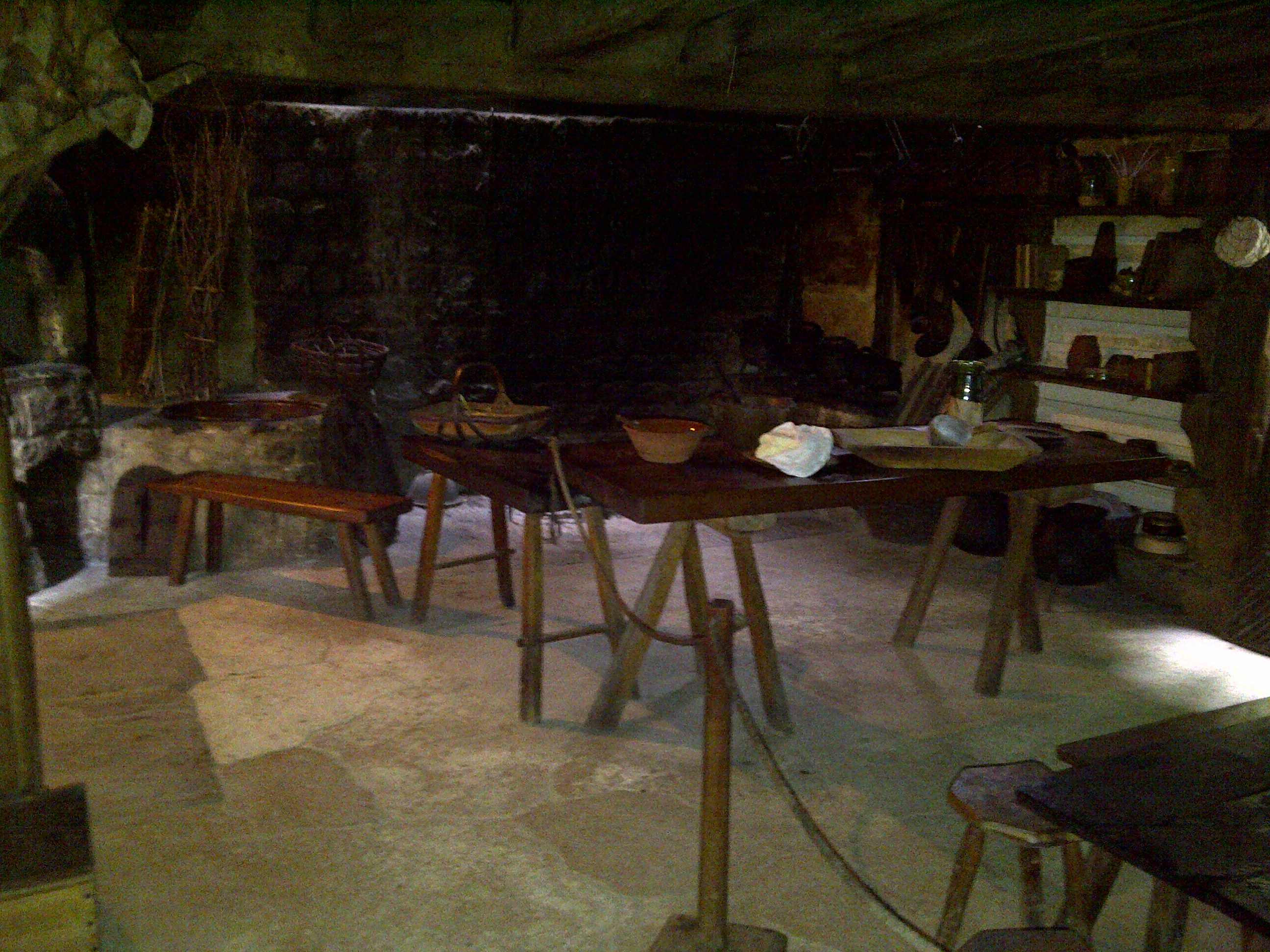 Inside the Wealden House from Chiddingstone – the kitchen area.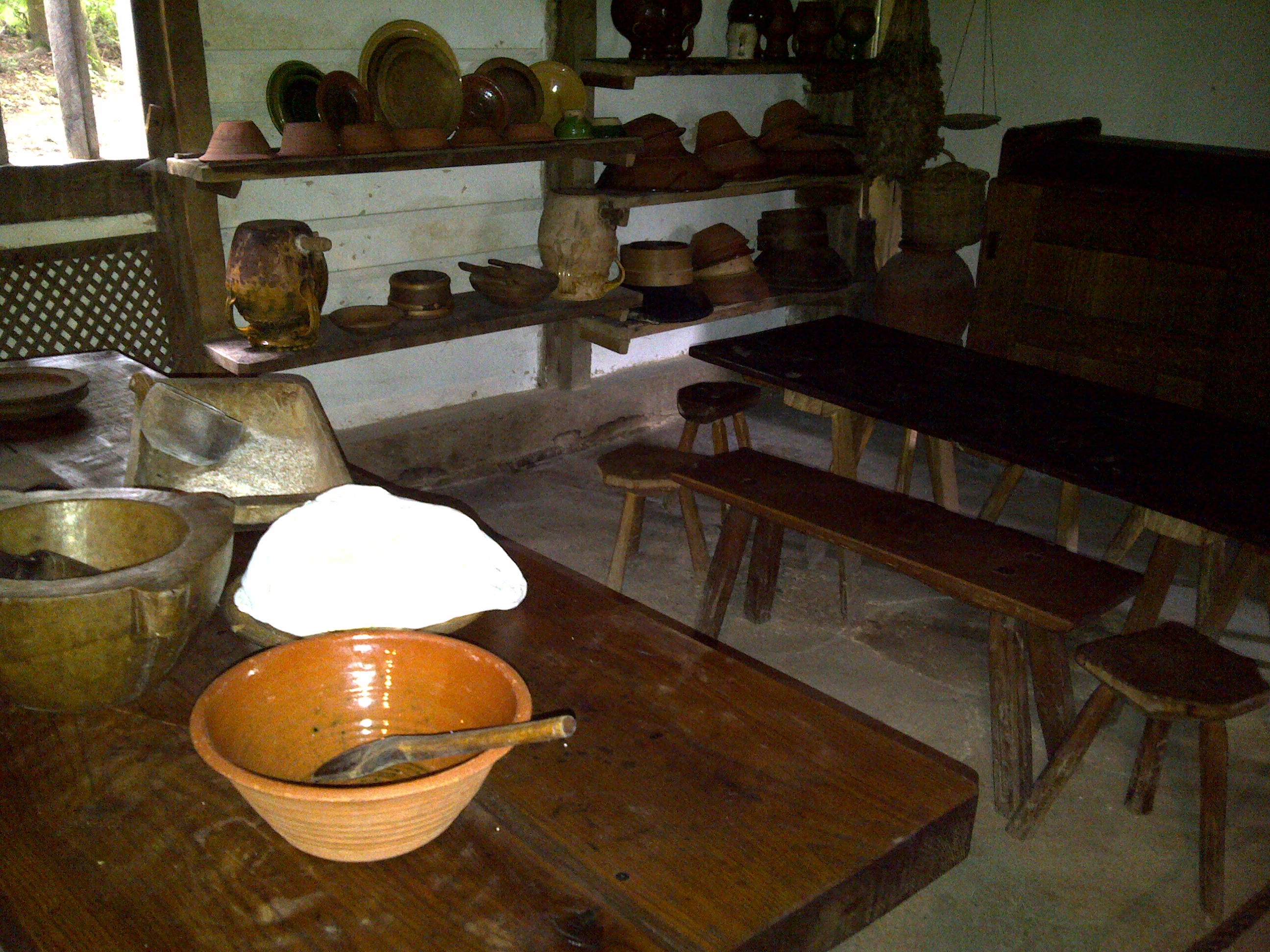 Inside the Wealden House from Chiddingstone – the kitchen area.
Inside the Wealden House from Chiddingstone.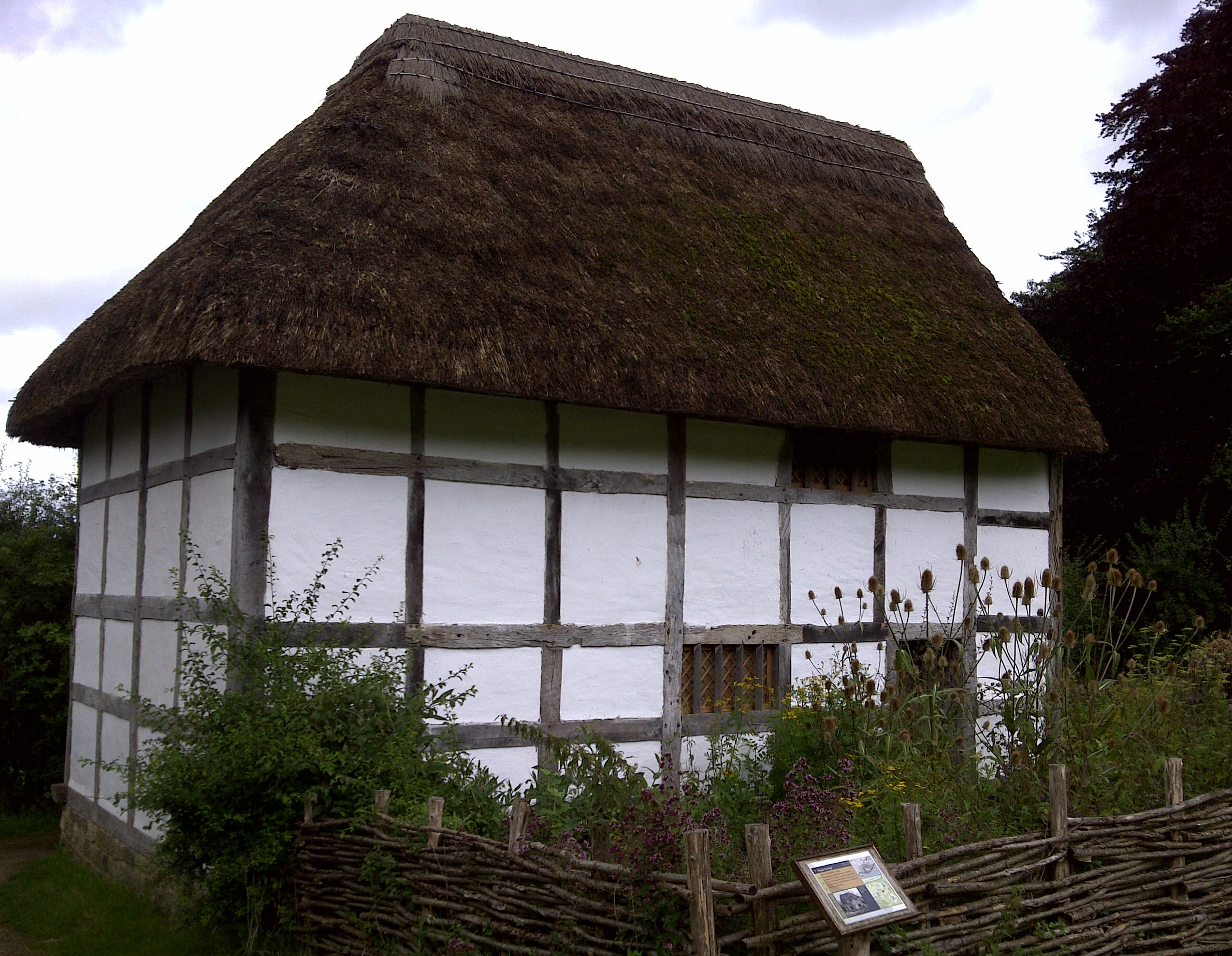 Hall from Boarhunt, Hampshire.  This building dates from the late 14th century and is an example of a medieval open hall.
All pictures are © Essex Voices Past
and may not be produced without permission

Further information
I hope you have enjoyed looking at some of our photos of our School Trip Friday into the buildings and architecture of England's medieval and Tudor heritage.  This is just a very small sample of the houses that can be visited at the Weald and Downland Open Air Museum.  We thoroughly recommend that you pay a visit.
Weald and Downland Open Air Museum
Building History: Weald & Downland Open Air Museum 1970-2010 the First 40 Years
Join us this time next week for our next School Trip Friday…!