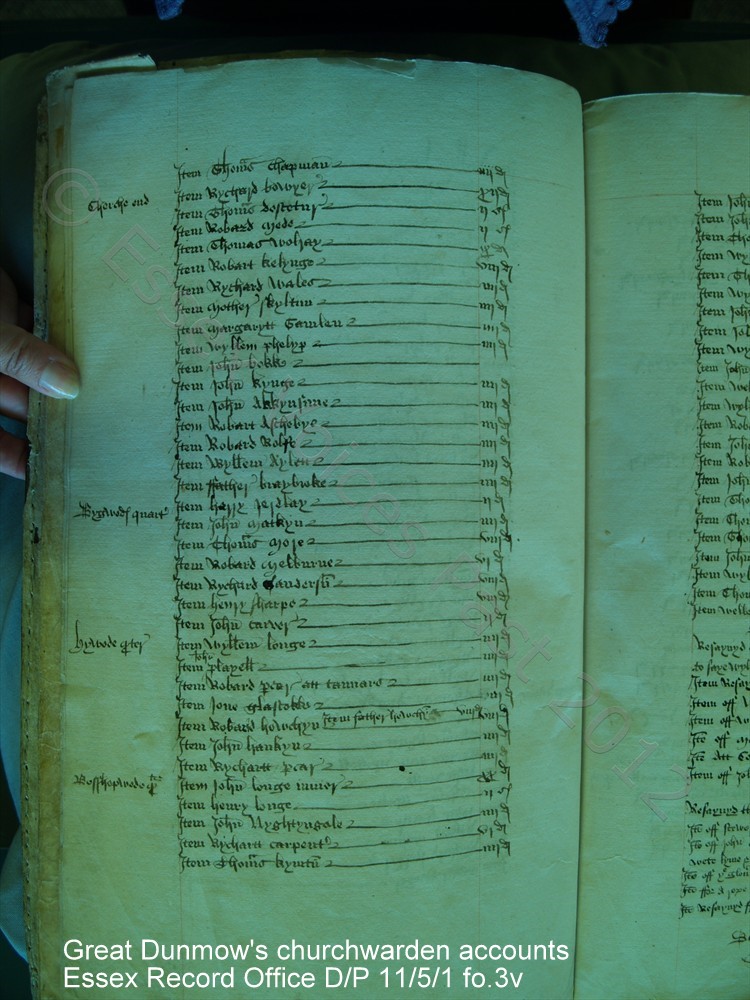 Transcription of Tudor Great Dunmow's churchwardens' accounts (1525-6)

| | | | |
| --- | --- | --- | --- |
|   | 1. Item Thomas chapman | iiijd [4d] | [Thomas Chapman] |
| cherche end | 2. Item Rychard bowyer | xij [12d] | [Richard Bowyer] |
|   | 3. Item Thom[a]s Dostetur | ijs [2s] | [Thomas Dowsetter/Dowset] |
|   | 4. Item Robard Mede | ijs [2s] | [Robert Mead] |
|   | 5. Item Thomas Wolray | ixd [9d] | [Thomas ??] |
|   | 6. Item Robart kekynge | viijd [8d] | [Robert Keking?] |
|   | 7. Item Rychard Wales | viijd [8d] | [Richard Wales] |
|   | 8. Item Mother skylton | iiijd [4d] | [Mother Skilton] |
|   | 9. Item margarytt Sawlen | iiijd [4d] | [Margaret Sawlen] |
|   | 10. Item Wyllem phelyp | iiijd [4d] | [William Phillip/Phelp] |
|   | 11. Item john bokk | [blank] | [John Book] |
|   | 12. Item John kynge | iiijd [4d] | [John King] |
|   | 13. Item john Akkynsone | iiijd [4d] | [John Atkinson] |
|   | 14. Item Robart Aschebye | iiijd [4d] | [Robert Ashby] |
|   | 15. Item Robard Rolfe | iiijd [4d] | [Robert Rolf] |
|   | 16. Item Wyllem Aylett | iiijd [4d] | [William Aylett] |
|   | 17. Item Father braybroke | iiijd [4d] | [Father Braybrook] |
|   | 18. Item harry rerdlay | ijd [2d] | [Harry ??] |
| Bygwod quart | 19. Item John Matkyn | iiijd [4d] | [John Matkin] |
|   | 20. Item Thom[a]s More | viijd [8d] | [Thomas Moore] |
|   | 21. Item Robard Melburne | vid [6d] | [Robert Melbourne] |
|   | 22. Item Rychard Sanders[o]n | viijd [8d] | [Richard Sanderson] |
|   | 23. Item henry sharpe | viijd [8d] | [Henry Sharpe] |
|   | 24. Item John Carver | ijd [2d] | [John Carver] |
| hywode qter | 25. Item Wyllem longe | iiijd [4d] | [William Long] |
|   | 26. Item \John/ playell | iiijd [4d] | [John Playel] |
|   | 27. Item Robard p[ar]car att caunare | iiijd [4d] | [Robert Parker at ??] |
|   | 28. Item Jone glascokke | viijd [8d] | [Joan/Jane Glascock] |
|   | 29. Item father howchy[n] | viijd [8d] | [Father Hutchinson?] |
|   | 30. Item Robard hochyn | viiijd [8d] | [Robert Huchinson?] |
|   | 31. Item John hankyn | iiijd [4d] | [John Hankin] |
|   | 32. Item Rychartt P[ar]car | iiijd [4d] | [Richard Parker] |
| bosshopwode qter | 33. Item John longe junior | xxd [20d] | [John Long, junior] |
|   | 34. Item Henry longe | ijs [2s] | [Henry Long] |
|   | 35. Item John Nyghtyngale | iiijd [4d] | [John Nightingale] |
|   | 36. Item Rychartt carpentr | vjd [6d] | [Richard Carpenter] |
|   | 37. Item Thom[a]s kyunt[o]n | iiijd [4d] | [Thomas ??] |
Commentary
Line 17 & 29: Father = 'old man' ie a local aged man
Line 8: Mother = 'old woman' ie local aged woman, probably a widow as this is a list of heads of households.
Line 2: Church End, the area of the parish where the parish church is located (nearly one mile from the main town)
Line 19: Bigods Quarter – an area in the north of the parish.  Bigods was one of Great Dunmow's medieval manors.
Line 33: Bishopswood Quarter – an area to the south of the parish.
Notes
Text in square [brackets] are The Narrator's transcriptions.  Line numbers are merely to assist the reader find their place on the digital image.
The early-modern spellings of the inhabitants of Great Dunmow have been transcribed into modern English so that genealogists, family historians and other researchers can pick up these names via internet search engines.  Please leave a comment if you can improve the modern-day spelling.  The other hundred or so names written within this list will appear over the next few days, followed by an analysis of the names on the list and the reason for the church collection.
Notes about Great Dunmow's churchwarden accounts
Great Dunmow's original churchwardens' accounts (1526-1621) are kept in Essex Record Office (E.R.O.), Chelmsford, Essex, D/P 11/5/1.  All digital images of the accounts within this blog appear by courtesy of Essex Record Office and may not be reproduced. Examining these records from this Essex parish gives the modern reader a remarkable view  into the lives and times of some of Henry VIII's subjects and provides an interpretation into the local history of Tudor Great Dunmow.
*-*-*-*-*-*-*-*-*-*-*-*-*-*-*-*-*
This blog
If you want to read more from my blog, please do subscribe either by using the Subscribe via Email button top right of my blog, or the button at the very bottom.  If you've enjoyed reading this post, then please do Like it with the Facebook button and/or leave a comment below.
Thank you for reading this post.
You may also be interested in the following
– Index to each folio in Great Dunmow's churchwardens' accounts
– Great Dunmow's Churchwardens' accounts: transcripts 1526-1621
– Tudor local history
– Building a medieval church steeple
© Essex Voices Past 2012-2013.