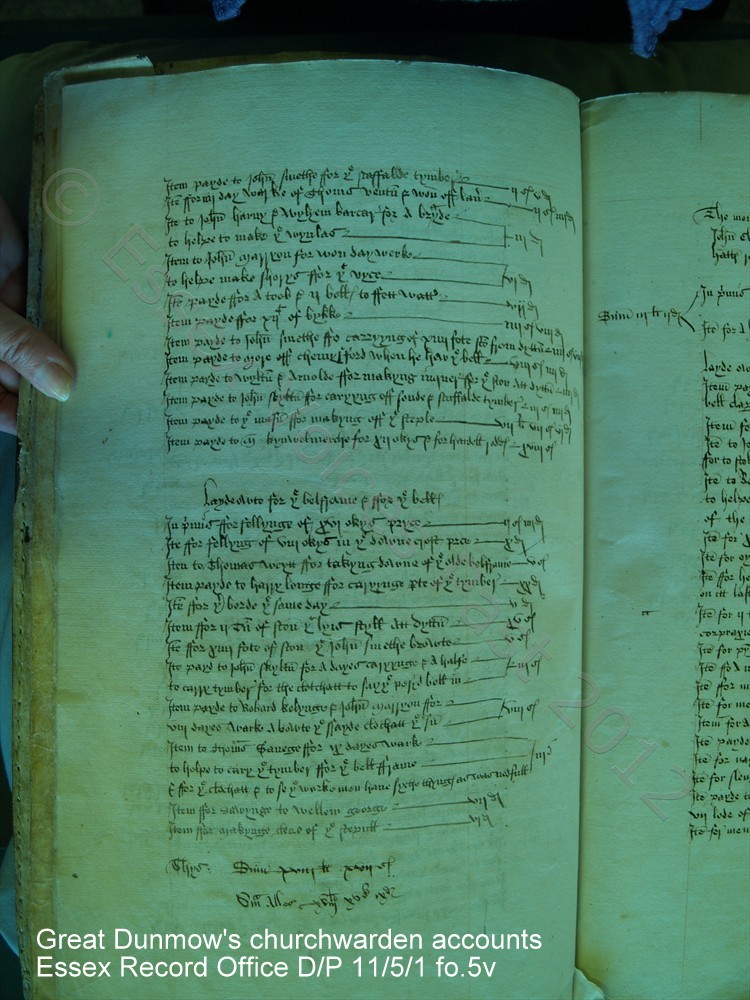 Transcription of Tudor Great Dunmow's churchwardens' accounts (1525-6)
| | |
| --- | --- |
| 1. Item payde to John Smethe ffor ye scaffalde tymber [Item paid to John Smith for the scaffold timber] | iis vd |
| 2. Ite[m] for iiij day warke of Thomas Ventu[n] & won[e] off lad [Item for 4 days work off Thomas Ventun & one off lad] | ijs iiid |
| 3. Ite to John harvuy & Wylyem barcar for a br\a/yde [Item to John Harvey & William Barker for a braid (rope)] | iijd |
| 4. to helpe to make ye wynlas [to help make the windlass] | |
| 5. Item to John Marryou for won day werke [Item to John Mayor for one day's work] | vid |
| 6. to help make shorye ffor yt vyce [to make shore(??) for its vice) | |
| 7. Ite[m] payde ffor a toob & ij bells to fett watte[r] [Item paid for a tube & 2 bells to fetch water] | viid |
| 8. Item payde for xij c [quart] of bykke [Item paid for 12 quarts of bricks] | iiijs viiid |
| 9. Item payde to john smethe ffo carryyng of xiiij fote sto[n] from dytt[o]n [Item paid to 10. John Smith for carrying 14 foot of stone from Duton (Duton Hill – a nearby village)] | iiijs viijd |
| 11. Item payd to More off chemysfford when he have ye bell [Item paid to More from Chelmsford when he have the bell] | viijs iiijd |
| 12. Item payd to Wylla[m] & Arnolde ffor makyng inquer ffor ye ston att dytto[n] [Item paid to Wiliam & Arnold for making enquires for the stone at Duton (Hill)] | iiijd |
| 13. Item payde to john skytto[n] ffor caryyng off sande & scaffald tymber [Item paid to John Skylton for carrying the sand and scaffold timber] | iijs iiid |
| 14. Item payde to ye maso[n] ffor makying off ye steple | vii li vijs vjd [ie £7 7s 6d] |
| 15. Item payde to M kynwelmerche for xij okys & for hardell rodds [Item paid to Mister Kynwelmarshe for 12 oaks & for hardell(??) rods] | xviijs |
| | |
| 16. Laydeowte for ye belframe & ffor ye bell [HEADING – Laid out for the bell-frame & for the bell] | |
| 17. In primis ffor fellynge of xvj okys pryce [First, for felling of 16 oaks (trees) price] | ijs iiijd |
| 18. Ite[m] ffor fellyng of viij okys in ye downe croft prce [Item for felling of 8 oaks in the Down Croft price] | xd |
| 19. Item to Thomas Weytt ffor takyng down of ye olde belframe [Item to Thomas White for taking down of the old bell-frame] | vs |
| 20. Item payde to harry longe ffor caryynge p[ar]te of ye tymber [Item paid to Harry Long for carrying part of the timber] | xxd |
| 21. Item ffor ye borde ye same day [Item for the board (ie maybe accommodation?) the same day] | iid |
| 22. Item ffor ij t[o]n of ston[e] yt lyis styll att Dyttin [Item for 2 tonnes of stone, it (or 'which') lies still at Duton (Hill) (ie it was still at Duton Hill at the time of this entry)] | xvs |
| 23. Ite[m] ffor xiiij fote of ston yt John Smethe browte [Item for 14 feet of stone which John Smith brought] |  vs |
| 24. Ite payd to john skylto[n] for a dayes caryynge & a halfe [Item paid to John Skylton for a day and a half of carrying] | iijs |
| 25. to carry tymber for the clotchall to say ye pesyd bell in [to carry timber for the ?? to say the ?? bell in] | |
| 26. Item payde to Robard kelynge & john marryou ffor [Item paid to Robert Kelynge & John Mayor for] | viijs |
| 27. viij dayes wark abowte ye ffayde clochall ye su[m] [8 days work about the said clochall(??) the sum] | |
| 28. Item to Thom[a]s Savege ffor ix dayes wark [Item to Thomas Savage for 9 days work] | iijd |
| 29. to helpe to cary ye tymber ffor ye bell fframe [to help to carry the timber for the bell frame] | |
| 30. & ffor ye clahall & to se ye warkemen have fyche thyngs as was nedfull [& for the clochall?? & to ?? the workman have fetched things as was needful] | |
| 31. Item ffor Sawynge to Wellem george [Item for sewing to William George] | viijd |
| 32. Item ffor makynge clene of ye stepell [Item for making clean of the steeple] | vjd |
| | |
| 33. Thys Sum xviij li xvii s [This sum £18 8s] | |
| 34.  S[um]ma  All?? xviij li xvs ixd [Summa of £18 15s 9d] | |
Commentary
Line 4 – Windlass – a device used for moving heavy weights.  This link shows a reconstruction of a Medieval Builders' Windlass.
Line 6 – Vyce (or vice).  According to A Dictionary of the Architecture and Archaeology of the Middle Ages(1), this was a winding or spiral staircase.  Was it a spiral staircase up the outside of the church, which, along with the windlass, was used in the construction of the building the spire?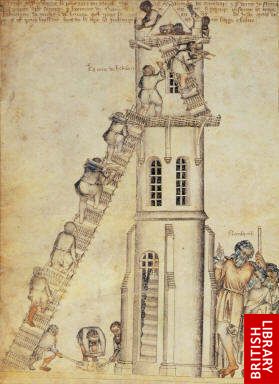 'Tower of Babel showing an external staircase used during the construction of the Tower' from Egerton Genesis Picture Book (England, 3rd quarter 14th century),
shelfmark Egerton 1894 f.5v, © British Library Board.
Line 14, 33 & 34 – the text 'li' is the abbreviation for the Latin word libra i.e. 'pound' £.
Line 25, 27 & 30 – can anyone help me with this?  I'm totally stuck on the word 'clotchall' or 'clochall'?
Line 34 – summa Latin word which today is abbreviated to 'sum' i.e. total.
Great Dunmow's church steeple
Once again, we return to the fact that Great Dunmow doesn't appear to have a church steeple in the modern era but the churchwardens' accounts consistently refers to one.  As can be seen on this folio, there was a lot of building work to make this steeple, which was constructed with a large amount of stone, timber and manual labour.  Great Dunmow's church does not have a steeple in the conventional sense of a steeple (i.e. there isn't a spire).   Could our Tudor scribe actually be describing the construction of the tower that is still there today?  The Dictionary of the Architecture and Archaeology of the Middle Ages describes a steeple as being 'a lofty erection attached to a church and intended chiefly to contain its bells'.  As can be seen on this folio, there are many entries regarding the bell frame, so this definition would fit Great Dunmow's church.  The dictionary continues:
'Steeple is a general term and applies to every appendage of this nature, whether its form classes it as a tower, or as a spire; or if it exhibits the ordinary arrangement of a tower surmounted by a spire'.(2)
The Victorian vicar of Great Dunmow, W T Scott, writing in the 1870s certainly puzzled over the steeple-less/spire-less tower at the church and supposed that a wooden spire had been constructed which had subsequently been destroyed.  This implies that in his living memory (and the living memory of people purchasing his book), there wasn't a steeple or spire.  If the 1525-6 parish collection for the church steeple resulted in the construction of a wooden spire, if that original wooden spire was destroyed by, for example, fire, then surely that spire would have been rebuilt.  Thus, there would be a record somewhere of the rebuilding of that Tudor spire and Victorian Scott most certainly would have known about it.  But there isn't.  Nearby Thaxted's and Saffron Walden's churches both had their spires rebuilt after damage.  Evidence of the rebuilding of both of these church spires  survive. However, nothing has been documented about a spire in Great Dunmow.  I am beginning to think that there was never a spire and that the building work paid for by the 1525-6 parish collection resulted in the 'tower' that can now be seen in the church.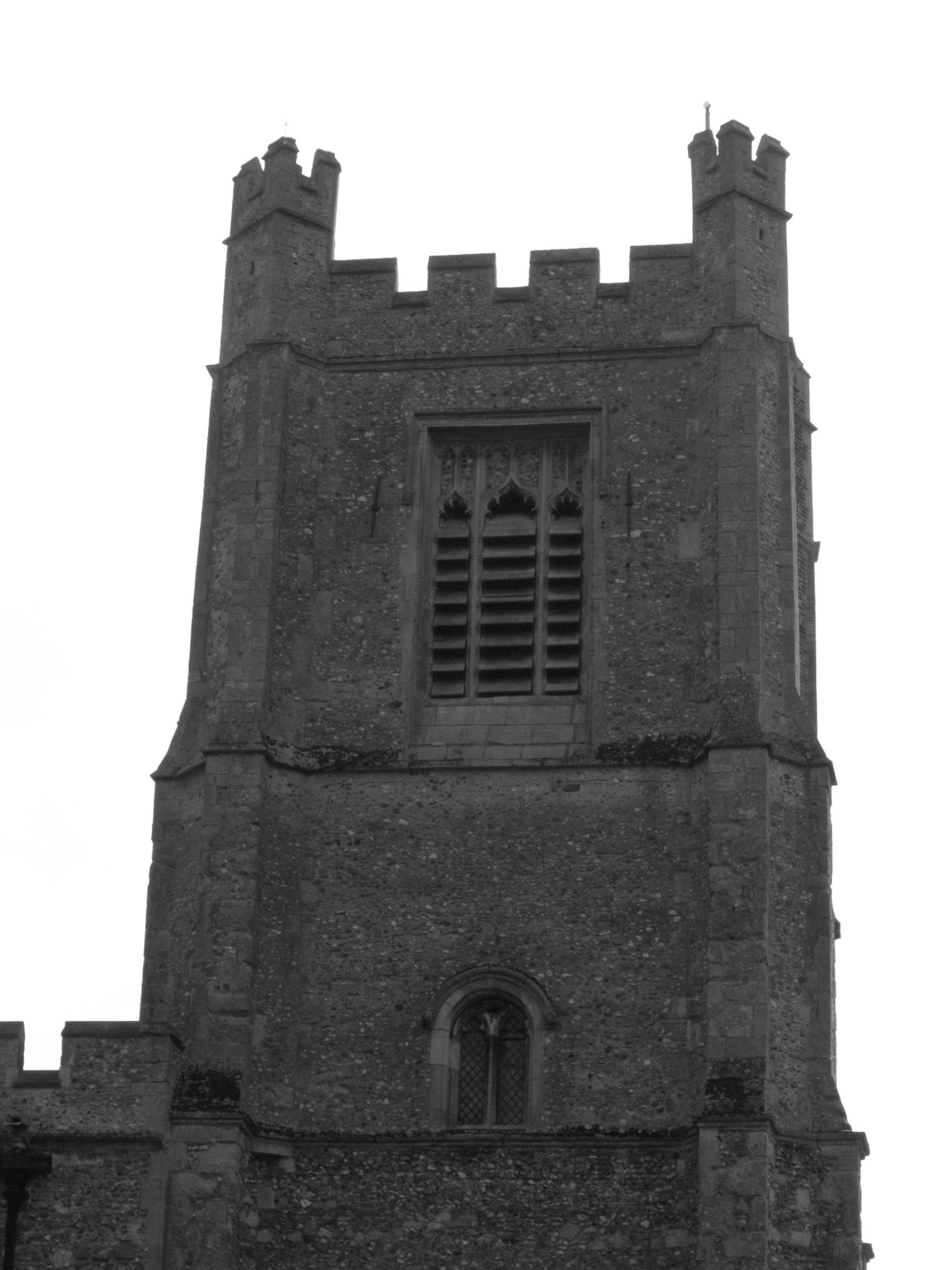 The steeple-less/spire-less tower at St Mary the Virgin, Great Dunmow.
© Essex Voices Past 2012.
(above) St John the Baptist church, Thaxted.(3): The tower was built in the late fifteenth century.(4) This 1776 engraving shows Thaxted's original spire. The spire was rebuilt after it was hit by lightning in 1814, and remodelled on the original.(5)
Footnotes
1) John Britton, George Godwin, and John Le Keux, A Dictionary of the Architecture and Archaeology of the Middle Ages (2010), p239.
2) Ibid, p221.
3) Robert Goadby, Cooper Engraving of Thaxted Church (1776).
4) James Bettley and Nikolaus Pevsner, Essex, The Buildings Of England (2007), p764.
5) Nikolaus Pevsner, Essex, (2nd edn.,1965), 380.
All digital images from the British Library's Online Images archive appear by courtesy of the British Library Board and may not be reproduced (© British Library Board).
Notes about Great Dunmow's churchwarden accounts
Great Dunmow's original churchwardens' accounts (1526-1621) are kept in Essex Record Office (E.R.O.), Chelmsford, Essex, D/P 11/5/1.  All digital images of the accounts within this blog appear by courtesy of Essex Record Office and may not be reproduced. Examining these records from this Essex parish gives the modern reader a remarkable view  into the lives and times of some of Henry VIII's subjects and provides an interpretation into the local history of Tudor Great Dunmow.
*-*-*-*-*-*-*-*-*-*-*-*-*-*-*-*-*
This blog
If you want to read more from my blog, please do subscribe either by using the Subscribe via Email button top right of my blog, or the button at the very bottom.  If you've enjoyed reading this post, then please do Like it with the Facebook button and/or leave a comment below.
Thank you for reading this post.
You may also be interested in the following
– Index to each folio in Great Dunmow's churchwardens' accounts
– Great Dunmow's Churchwardens' accounts: transcripts 1526-1621
– Tudor local history
– Building a medieval church steeple
© Essex Voices Past 2012-2013.