Watching Helen Castor's recent excellent BBC programme on the She-Wolves of England prompted me to write this post on 'reading between the lines' of primary source analysis.  In my post, I will be considering 'reading-between-the-lines' in both the literal and also the metaphorical sense.
My last post on Palaeography and Old handwriting gave some tips on how to tackle the transcription of primary sources.  Today's post is about the benefits of transcribing your source word-for-word, which, coupled with some of the principles of unwitting testimony, can give you (perhaps) unexpected and surprising results.
For this, we will be looking at two 'features' of palaeography and primary sources
– Understanding why text has been inserted in your source
– Understanding why text has been deleted or strikethrough
Edward VI and Lady Jane Grey
Consider king Edward VI's Devise for the Succession(1).  This is the document that the boy-king, Edward VI, wrote on his sick-bed shortly before he died on 6 July 1553.  The Devise is a crucial document in the history of England because in it, Edward attempted to overturn his father's will (Henry VIII) by making his cousin, Lady Jane Grey, his heir.  Thus, Edward was attempting to bypass the royal rights of his two half-sisters Mary and Elizabeth, and by doing so, was ignoring no less than an act of parliament.  In this document, (which we know was written by the dying king himself) if we include the struck-through text (ie the original text before it was deleted) but we ignore the inserted text, Edward wrote
'To the L[ady] Frau[n]ceses heires masles, for lakke [lack] of such issu[e] to the L[ady] Janes heires masles.  To the L[ady] Katerins [Katherine] heires masles.  To the L[ady] Maries heires masles'.
In other words, the crown of England should first go to any male children of Lady Frances.  If Lady Frances did not have any male children, then the crown would pass to any male children of Lady Jane [Grey].  If Jane did not have any male children, then onto Lady Katherine's male children.  Finally, if Katherine didn't have any male children, then onto Lady Mary's male children.  Lady Frances Grey (Duchess of Suffolk),  was the mother of Lady Jane Grey and her sisters, Katherine  and Mary.  Henry VIII's sister, Mary Tudor, Dowager Queen of France, was Frances' mother.
However, Edward was dying and time was running out for him and a fledgling Protestant England.  Neither Frances nor her children had any male children so Edward wanted to ensure that the crown would go straight to Protestant Jane – so he altered his 'Devise'.  If we now ignore the original (but subsequently deleted) text and include the new inserted text, we have:
'To the L[ady] Fra[n]ceses heires masles, if she have any such issu[e] before my death to the L[ady] Jane and her heirs masles'.
Edward was specifying that if Frances produced any male children before he died, then the crown would go to them, but without male heirs from Lady Frances, the crown would go directly to the Lady Jane Grey and then to her male children.
If, as historians, we had not transcribed the document properly and not correctly highlighted all the deletions and insertions as such, then our interpretation regarding the position of women in the early-modern period (and Helen Castor's entire hypothesis on the She-wolves Queens of England!) would be blown out of the water.  Edward VI had left his throne and the crown of England to a mere woman!
However, if we transcribe this manuscript correctly, showing all the deletions and insertions, then we get a truer picture as to what had really happened.  Thus Edward's Devise for the Succession should be transcribed as follows (the \ / indicates inserted text):-
'….To the L[ady] Frau[n](ces )
\thissu [the issue] femal, as I have after declared/
ceses [ie Frances] heires masles , for lakke of \if she have any/ such issu[e] \befor[e] my death/ to the Lady Janes \and her/ heires masles…'
The dying king had no other option but without male heirs, on his death-bed, he had left England to Lady Jane Grey. Transcribing this document properly (by acknowledging the deleted and inserted text) shows just how remarkable  the events that had unfolded during the final days of the boy-king's life had been.  And, the benefit of hindsight in history is a wonderful thing, by altering his Devise for the Succession, Edward VI had unknowingly passed the death sentence on poor tragic Lady Jane Grey.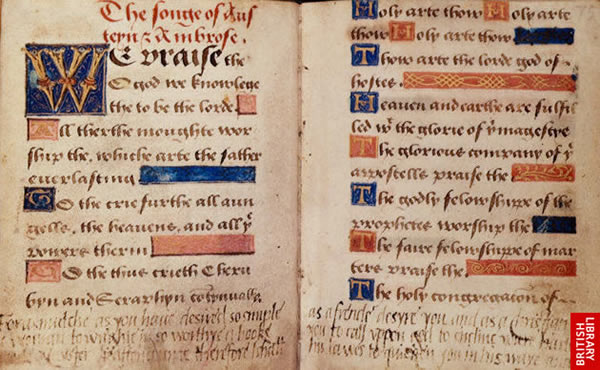 Lady Jane Grey's Prayerbook, probably used by her
on the scaffold at her execution in 1554.
British Library Harley MS 2342, ff.74v-75, © The British Library Board.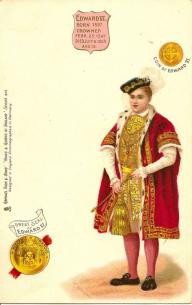 Postcard of Edward VI from Raphael Tuck's series 'Kings & Queens of England'
(in the personal collection of The Narrator © Essex Voices Past 2012).
Another example of Edward VI's handwriting can be seen in this, his diary. Here Edward VI describes how he and Elizabeth learnt of their father's death from his uncle Edward Seymour, Earl of Hertford, at Elizabeth's Enfield residence on 30 January 1547.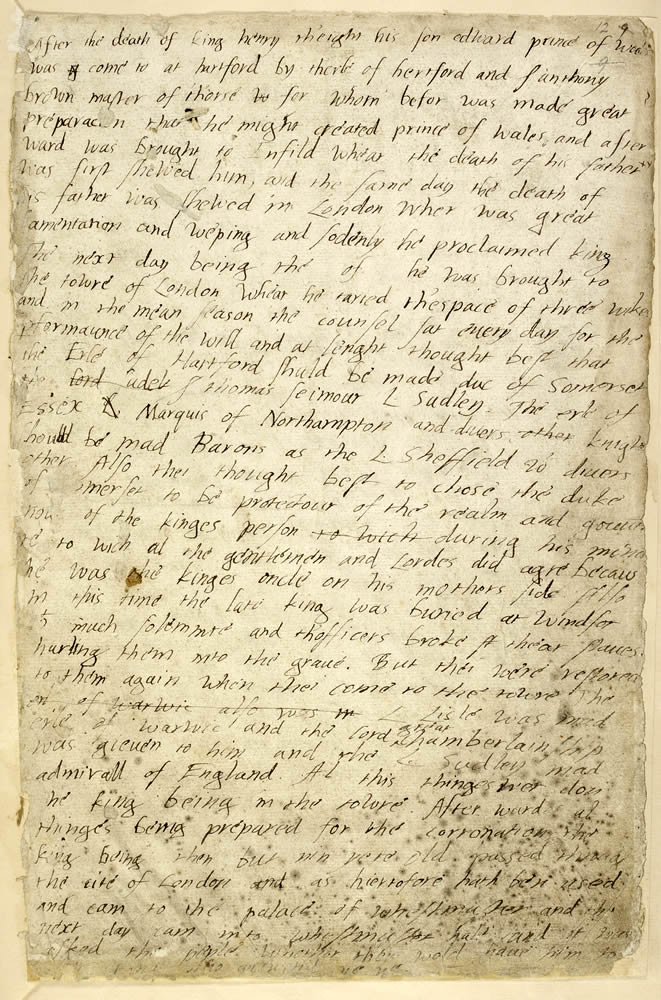 Edward VI's diary, Shelfmark: Cotton Ms. Nero C x, f.12,
© British Library Board.
Click this link, The Streatham Portrait of Lady Jane Grey, for a recently discovered portrait of Lady Jane Dudley (nee Grey) now in the possession of the National Portrait Gallery, London. (Copyright reasons restrict me from publishing it on my blog.  It is a fascinating portrait, do look at it).
The tale of two early Tudor wills
The example of Edward VI's Devise for the Succession  is an extreme example of ensuring that primary sources are correctly transcribed.  In our own family history or local history research, it is unlikely that you would have to transcribe such as crucial document to history as this!  However, when transcribing our own primary sources, we have to use judgement and other evidence to assess why text has been deleted or inserted and thus we have to 'read-between-the-lines'.
During the research for my Cambridge University's masters' degree in local history, I studied a large number of Tudor wills written by the townsfolk of Great Dunmow.  Two of these wills, when compared together, showed that the same text (a religious bequest) was included in both wills but had been struck out and therefore deleted from one.
The historian, Margaret Spufford, was one of the first historians to discuss the possibility that early-modern wills had been written by a scribe and that a dying testator could be influenced by such scribes.(2)  Two wills from Great Dunmow written in the 1520s have evidence that there was a Henrician scribe active in the parish, and he had used a book containing standard formulaic clauses to create the wills of his clients.  This type of 'precedent book' was not unusual during the Tudor period.  The will of widow Clemens Bowyer, dated February 1526, almost exactly mimics the earlier will of John Wakrell (October 1525) and is in the same handwriting.(3)  Both wills have the same soul bequests (Catholic, as would be expected from this period); along with bequests to the high altar, to Saint John's gild, to the church torches, and to the 'moder [mother] holy chyrch of polye [St Paul's] in London'.  Both wills also have a bequest for an 'honest prest to synge a tryntall [trental] for my sol & all crysten solls yn ye p[ar]rsche churche'.  However, in Bowyer's will , the bequest for her trental was entirely crossed through.
Did our scribe copy the wording from his precedent book, and widow Bowyer (or someone else present at her death-bed) make him cross it out after it had been written into the will?  Trentals were a series of 30 Masses performed within one year of the person's death, with three Masses on each of the ten major feast-days of Christ and the virgin Mary.  The priest also had to perform other liturgical duties throughout the year.(4)  This was a substantial undertaking, as demonstrated by Wakrell's bequest of 10s to pay for his trental.  Maybe widow Bowyer did not have sufficient funds, and so either she or one of her children made the scribe delete the bequest before her death.
So, the various crossings-out in widow Bowyer's will can be used as evidence that
the scribe in the parish was using a precedent book; and/or
the widow Bowyers (or the people present at her death) did not want the trental said after her death.  This could be for either religious or monetary reasons.  Because this will was written in the 1520s (when England was still very much a Catholic country), it is unlikely that the crossing-out was for religious reasons (and the other bequests in her will show a very Catholic will).  Therefore a more likely reason for the striking through of the text was for monetary reasons.
Great Dunmow's churchwardens' accounts
Great Dunmow's churchwardens' accounts have a great deal of crossings-out and inserted text – as could be expected in an account-book that was written up maybe once a year when the accounts were tallied up.  This post on the Tudor dialect of Great Dunmow has details about a crossing out of the word 'my' on one of the folios (folio 5r, line 20).  Was the scribe (who wrote up Great Dunmow's churchwardens' accounts) copying word-for-word various people's loose receipts into his account book?  Were those loose receipts in front of him as he copied them into his book?
Conclusion
When you are analysing your primary sources, don't forget to work out why text has been deleted or inserted into your document.  It could be for a very simple reason, but, as in the case of Edward VI's Devise for the Succession, sometimes the reasons for altered text could be much more complex.  As historians transcribing primary sources, we must ALWAYS include any text that has been struck-through or inserted.  Our transcriptions MUST show which text has been inserted or deleted.
Don't forget to read-between-the-lines of your primary source!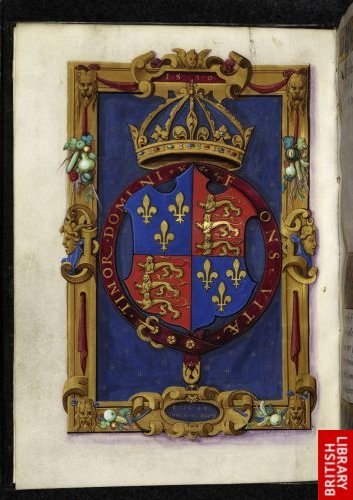 Frontispiece with the arms of Edward VI, Shelfmark: Royal 16 E XXXII f.1v,
© The British Library Board
Footnotes
1)  Edward VI My devise for the succession (July 1553), held  at The Inner Template Library's Manuscript Collection, London.
2) Margaret Spufford, 'The Scribes of Villagers' Wills in the Sixteenth and Seventeenth Centuries and their influence', in Local Population Studies (1972), 28-43 at 29.
3) Will of Clemens Boywer [Bowyer] of Great Dunmow (26 February 1526), Essex Record Office, D/ABW 3/8; Will of John Wakrell of Great Dunmow (19 October 1525), Essex Record Office, D/ABW 39/7.  Both wills available online via subscription to Essex Record Office's Essex Ancestors.
4) Eamon Duffy, The Stripping of the Altars: Traditional Religion in England,1400-1580 (2nd Edition, 2005) p370-371.
Further reading/watching
1) Watch on BBC's iPlayer Helen Castor's brilliant BBC programme 'She Wolves: the women who ruled England before Elizabeth' (Available in the UK on iPlayer until Tuesday 3rd April 2012) Dr Castor starts talking about Edward VI's 'Device for the Succession' at timing 8:20, and then at 10:11 we can see the original manuscript.
2) Helen Castor, She-Wolves: The Women Who Ruled England Before Elizabeth, (2011)
*-*-*-*-*-*-*-*-*-*-*-*-*-*-*-*-*
This blog
If you want to read more from my blog, please do subscribe either by using the Subscribe via Email button top right of my blog, or the button at the very bottom.  If you've enjoyed reading this post, then please do Like it with the Facebook button and/or leave a comment below.
Thank you for reading this post.
You may also be interested in the following
– The craft of being a historian: Research Techniques
– The craft of being a historian: Analysing primary sources
– The craft of being a historian: Using maps for local history
– The craft of being a historian: Online resources
– The craft of being a historian: Palaeography/handwriting
© Essex Voices Past 2012-2013.